Semiconductor industry outlook
"Three-quarters of the way through 2018, the global semiconductor industry is on pace to post its highest-ever annual sales, comfortably topping last year's record total of $412 billion," said John Neuffer, president and CEO, Semiconductor Industry Association. "While year-to-year growth has tapered in recent months, September marked the global industry's highest-ever monthly sales, and Q3 was its top-grossing quarter on record. Year-to-year sales in September were up across every major product category and regional market, with sales into China and the Americas continuing to lead the way."
Goldman Sachs warned clients about a downturn coming for the semiconductor sector but still recommends some chip stocks."We foresee a cyclical correction approaching and recommend investors to stay selective in Semis," Goldman Sachs analyst Toshiya Hari said in a note Thursday. Additionally, Goldman Sachs sees a glut of inventory in the semiconductor supply chain and said "we have witnessed a flurry of negative data points in the Automotive … and Industrial end-markets." The semiconductor industry gets 9 percent and 10 percent of revenues from autos and industrials, respectively. Those revenues are an even higher portion of analog semiconductor companies, according to Goldman, at 12 percent from autos and 30 percent from industrials.
We spot 2 trends that could send the semiconductor industry into a bearish territory: First, is the end of the cryptocurrency mining boom that boosted Nvidia's and others revenue for more than a year hit the graphics chip vendor hard in the third quarter, dragging sales below Wall Street's expectations.
Nvidia for example, issued a fourth-quarter forecast that came in below analysts' targets, citing excess inventory of GPUs based on its Pascal architecture in the sales channel.
The second trend is lower demand for new smartphone, according to Statista in 2018 fewer smartphones were ship compared to 2017, this indicates a shift in the current demand.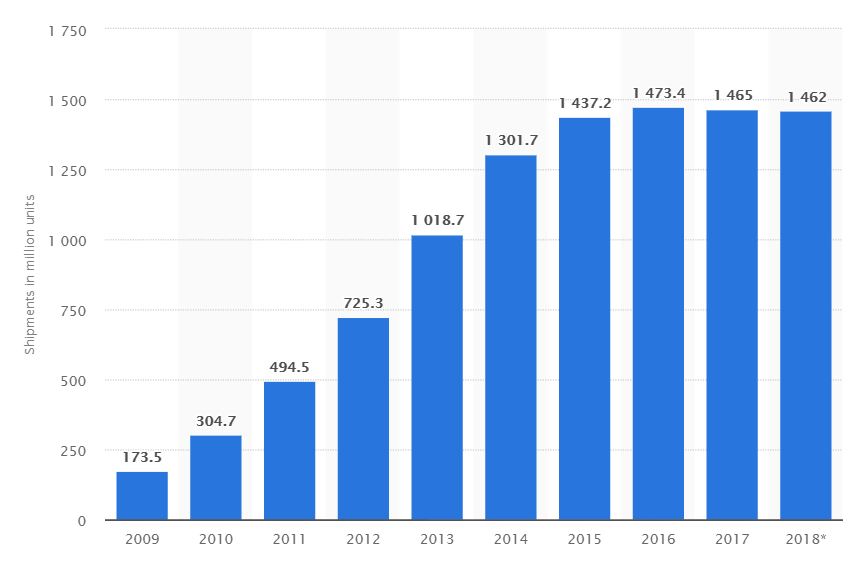 According to preliminary data from the International Data Corporation (IDC) Worldwide Quarterly Mobile Phone Tracker, smartphone vendors shipped a total of 355.2 million units during the third quarter of 2018 (3Q18), resulting in a year-over-year decline of 6.0%. This was the fourth consecutive quarter of year-over-year declines for the global smartphone market, which raises questions about the market's future.
Analyzing the past quarter events of the semiconductor industry, we can see that the overall score is still in the bullish territory with a score of 0.57. However, we can see the change in the event-driven score toward the bearish territory, mainly as a result of the lower demand for crypto mining and smartphones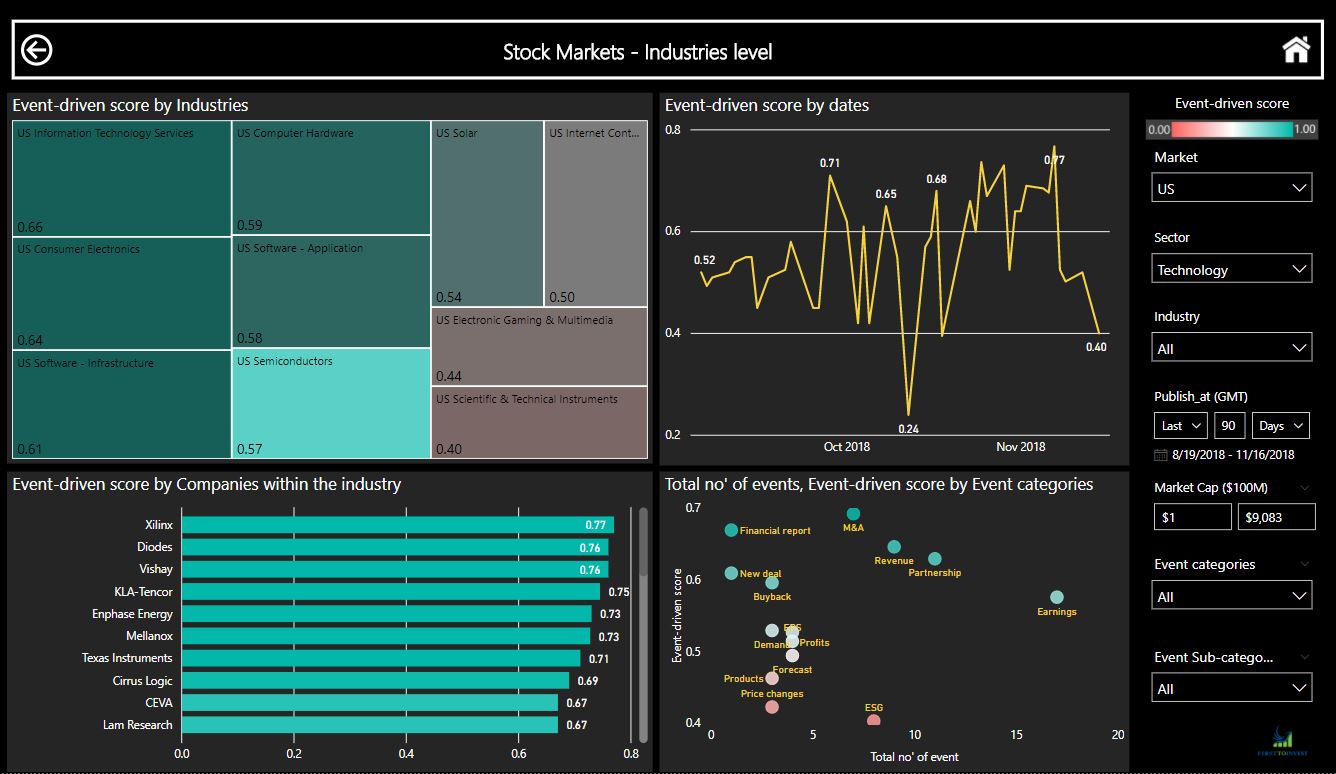 (The event-driven score is scaled between 0-1 where bellow 0.5 points to a bearish event-driven score based on events during the filtered period, above 0.5 points to bullish event-driven score) clicking here to trial our system
---
Capture alpha using event-driven scoring presented on a visual analytics system
Using big data and NLP technologies to capture alpha by collecting, structure and reveal events from news articles, press releases, and financial social media. Our data is presenting on visually compelling, interactive dashboards on your PC and mobile.
Using a hybrid model to provide high accuracy of data classification, context, and sources to ensure maximum value for our clients. Generating events scoring based on novelty, the position of the event, (header or news body), the event scoring index and the repetition of the event in the media.
Events Categories
Financial reports related events, M&A, new deals, partnerships, ESG, regulatory decisions, management change, expansions, new products, FDA decisions, macroeconomics and more…..
Comprehensive Sourcing
Cover press releases, news stories, and financial social media on companies, currencies, commodities, central banks, cryptocurrencies, macroeconomics and ETFs 24/7.
Visual Analytics
Our data is presenting on easy to use interactive dashboards on the web or on your phone, get alerts when data changes, and drill into details. Alpha is at your fingertips.
(Views and recommendations given in this section are for research purposes only. Please consult your financial adviser before taking any position in the stock/s or currencies mentioned.) Neither First to invest. nor any of its officers, employees, representatives, agents or independent contractors are, in such capacities, licensed financial advisors, registered investment advisers or registered broker-dealers. First to invest does not provide investment or financial advice or make investment recommendations. Nothing contained in this communication constitutes a solicitation, recommendation, promotion, endorsement or offer by First to invest of any particular security, transaction or investment. Our goal as publishers of financial information is to provide research and analysis of investments to our subscribers