Intelligence Report: Coup in Niger
18 Aug 2023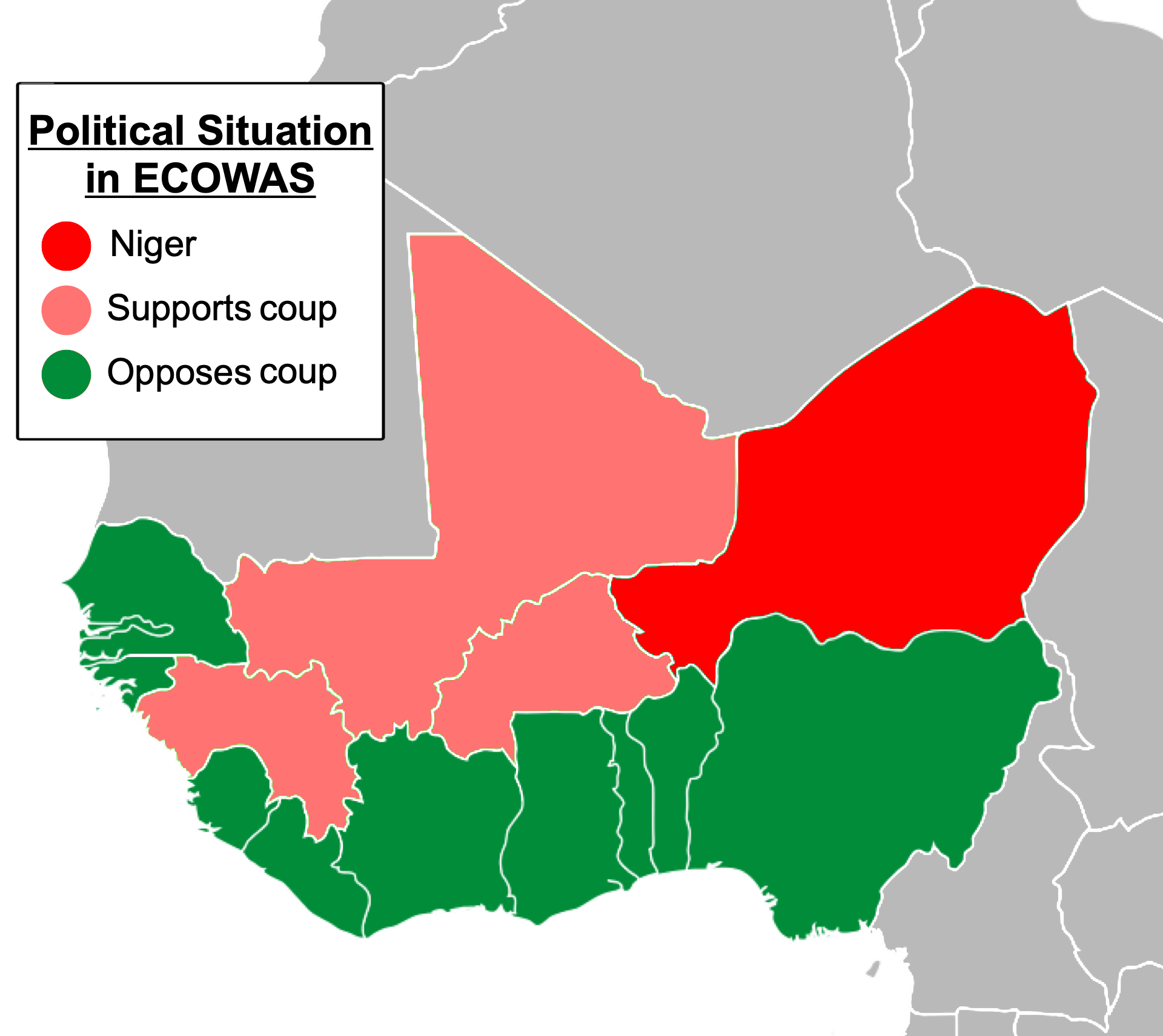 Coup Details: The Nigerien military has staged a coup d'état, resulting in the detention of President Mohamed Bazoum. The individual leading this coup, a Nigerien general, has subsequently declared himself the new president of Niger.
Reaction in West Africa: The broader West African community, likely through ECOWAS (Economic Community of West African States), has shown a willingness to intervene militarily against the coup leaders in Niger. There's already talk about deploying a standby force.
International Involvement:
a. France: The coup leaders have terminated military cooperation with France, signaling an anti-Western sentiment. The French embassy in Niger has also been attacked.
b. Russia: Russia has warned ECOWAS against any military action in Niger, showcasing a possible alignment or interest between the coup leaders and Moscow.
c. Wagner Group: U.S. Secretary of State, Antony Blinken, indicates that the Wagner Group, a private military company with close ties to the Kremlin, is seeking to exploit the political instability in Niger.
Internal Developments:
a. A 21-member cabinet has been formed by the coup leaders ahead of a significant West African summit.
b. There's a plan to put the deposed president, Bazoum, on trial for treason.
c. The junta, possibly under regional and international pressure, has expressed willingness for talks. Both the U.S. and Russia emphasize the importance of peaceful dialogue.
d. As an effort to consolidate power, the coup leaders are arresting opponents and establish a new governmental structure.
Regional Relations:
a. The coup leader has visited Mali, indicating potential regional support or coordination. It's important to consider Mali's recent history of instability and its interactions with the international community.
b. There was an attack near the Mali-Niger border resulting in the death of over a dozen Nigerien soldiers, suggesting regional security implications and possibly pointing to the involvement or opportunistic actions by insurgent groups in the region.
Deposed President Mohamed Bazoum:
a. Despite being criticized domestically, Bazoum had a positive reputation abroad.
Analysis:
Risks:
a. The sudden cessation of military cooperation with France and the attack on its embassy can lead to a deterioration of Niger-France relations.
b. The involvement or interest of the Wagner Group and Russia's warning to ECOWAS could escalate tensions and make regional interventions complex.
c. Given Niger's strategic importance and vast resources, any instability can have broader geopolitical ramifications.
Opportunities:
a. The coup leader's willingness to engage in dialogue with ECOWAS presents an avenue for peaceful resolution. Regional and international powers should facilitate this process.
b. The involvement of major powers, such as the U.S., Russia, and potentially France, could provide diplomatic channels to negotiate a peaceful transition or return to democratic governance.
---