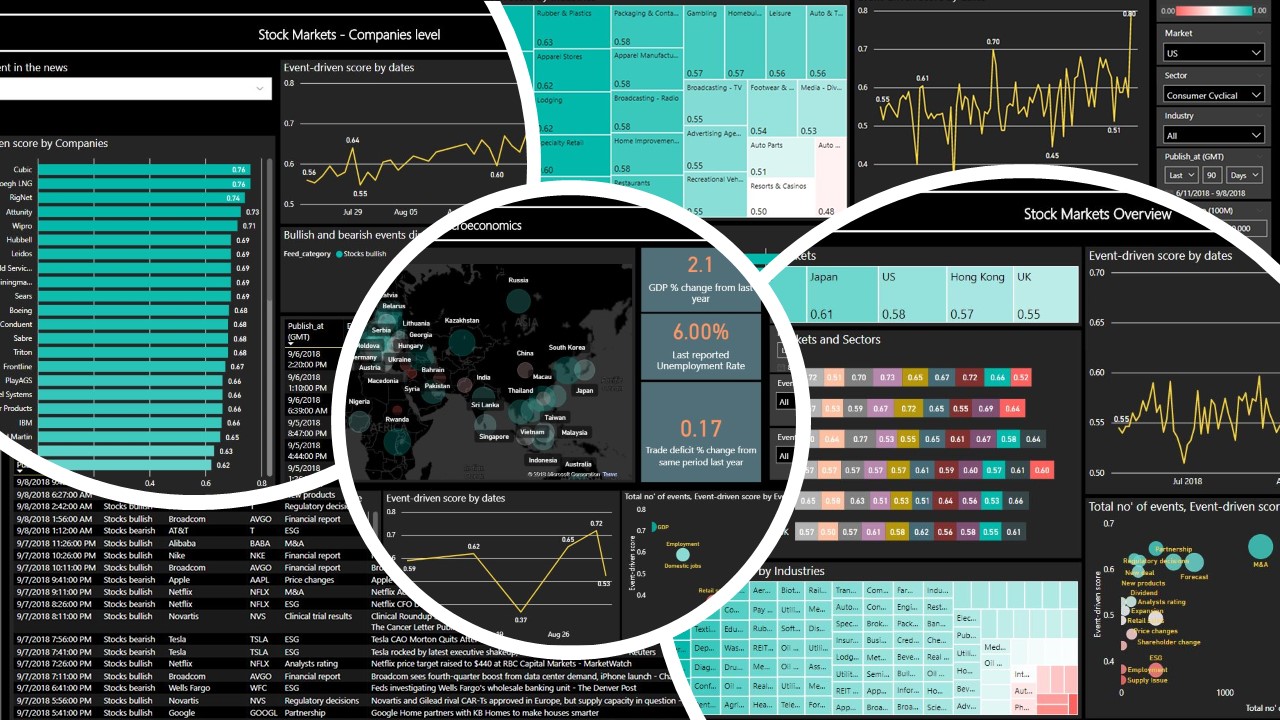 Capture alpha using event-driven scoring presented on a visual analytics system
Takeover
Macroeconomics
 Secondary Offering
New deals
New deal
FDA decisions
Evaluate alternatives
Merger
New products
New drug
Joint venture
Buyout
Regulatory decisions
Financial reports related events
ESG
M&A
Expansions to new markets
Management and stakeholders changes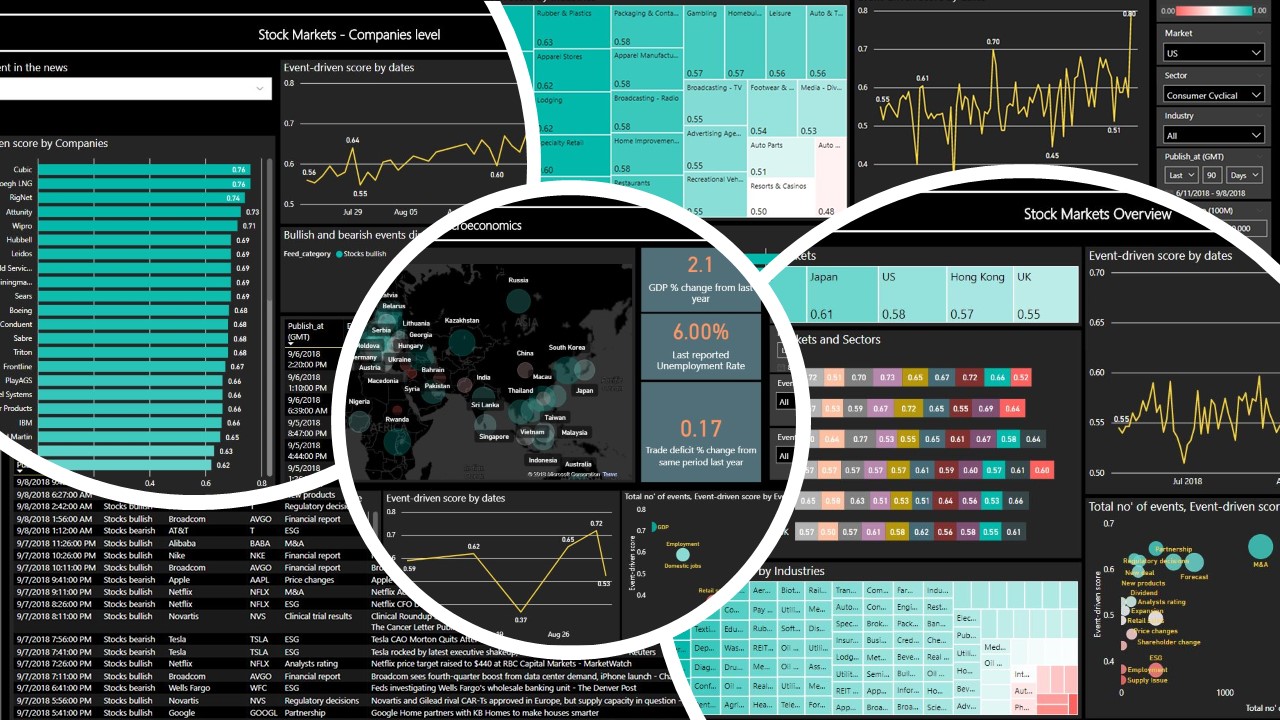 Secondary Offering
New deal
Expansions to new markets
Clinical trial results
ESG
financial reports related events
management and stakeholders changes
New products
FDA decisions
M&N
Regulatory decisions
Capture alpha using event-driven scoring presented on a visual analytics system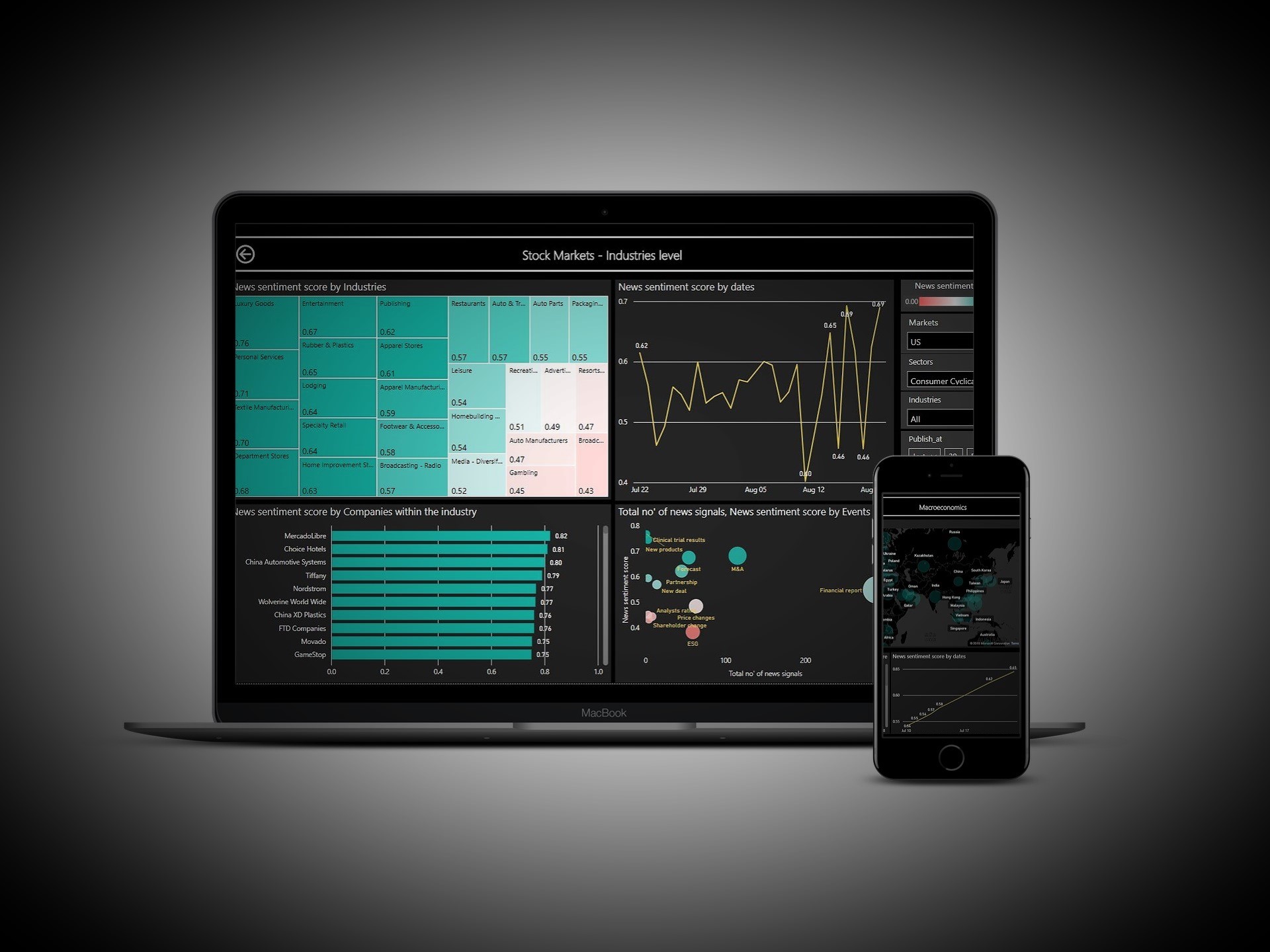 Capture alpha using event-driven scoring presented on a visual analytics system
Using big data and NLP technologies to capture alpha by collecting, structure and reveal events from news articles, press releases, and financial social media. Our data is presenting on visually compelling, interactive dashboards on your PC and mobile.
Using a hybrid model to provide high accuracy of data classification, context, and sources to ensure maximum value for our clients. Generating events scoring based on novelty, the position of the event, (header or news body), the event scoring index and the repetition of the event in the media.
Event Categories

In today's rapidly changing environment it is essential to be able to track corporate events such as M&A, new deals, partnerships, ESG, regulatory decisions, management and stakeholders' changes, expansions to new markets or product categories, new products, price changes, new agreements, FDA decisions, financial reports related events, macroeconomics and much more…
Comprehensive Sourcing

Cover press releases, news stories, and financial social media on companies, currencies, commodities, central banks, cryptocurrencies, macroeconomics and ETFs 24/7.
Visual Analytics
Our data is presenting on easy to use interactive dashboards on the web or on your phone, get alerts when data changes, and drill into details. Alpha is at your fingertips.
Find opportunities and minimize risk in every markets, sector, industries, ETFs, and countries

Portfolio aggregate score and monitoring

Cross markets, sectors, industries, companies, ETFs, portfolio and countries comparisons

Analysis on different levels

Scoring per event categories such as ESG, M&A, earnings and more

Alert notification when the score is changing

Export data to XLS or CSV files
Test and see the value with a 14-day free trial
Learn more about how our event-driven scoring capture alpha.
Contact us at

[email protected]

| Phone: New-York (646).661.2850 | Israel +972.532.444.984