Twitter case study
Twitter shares finished Friday 20% down at market close after reporting a decline in monthly active users during the second quarter.
The trouble here isn't revenue (it beat estimates) or earnings (it hit its number). Instead, it's about a decline in "monthly active users," a figure that was depressed for reasons like new privacy rules in Europe, a purging of fake/abusive accounts, and not moving to paid SMS carrier relationships
This event was well known before the 2Q financial report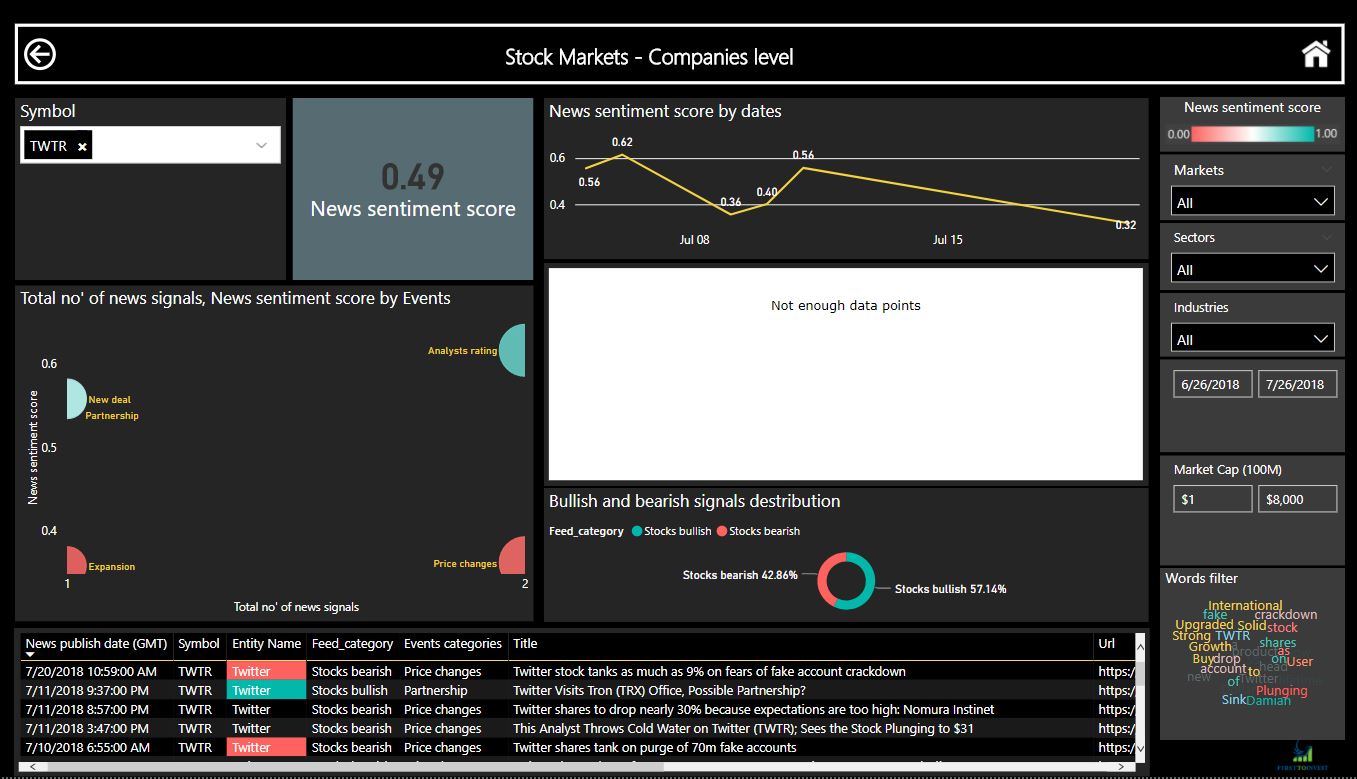 This dashboard presents our data on facebook using news sentiment score on a scale between 0-1 (above 0.5 consider bullish sentiment and below 0.5 consider a bearish sentiment).
Twitter's 30 days news sentiment score was below 0.5 thresholds (0.49) on Jul 26 a day before the financial report was published. On Jul 09, the first sign of bearish sentiment happens as the news sentiment score cross 0.5 and move down to 0.36-0.4 follow by signs of user activity may slow. On Jul 20 the stock drop 9% as the fear from fake accounts make it to the headlines.
These events were strong enough to act upon and start sale position or to enter th short positions, as the thresholds triggered twice, our clients that set up an alert for Twitter news sentiment change got a notification and was aware to the company news sentiment score and the negative change which factored in the market after the company's financial report releases.
Companies that don't monitor the news sentiment on an ongoing basis may miss the opportunity to react in advance to major events. Luckily, there are technologies that allow to analyze and monitor news sentiment score of equities and other assets classes in easy to use interactive dashboards and alerts.
---
Generating alpha using news sentiment on extracted events, presented on a visual analytics platform
Using big data and NLP technologies to generate alpha by collecting, structure and reveal hidden insights from unstructured text within tens of thousands of news articles, press releases, and financial social media. Our data is presenting on visually compelling, interactive dashboards on your PC and mobile.
Using a hybrid model to confirm the accuracy of data classification, context, and sources to ensure maximum value for our clients. Generating news sentiment score based on relevancy, position, and strength of the signal on any level. Furthermore, connect additional datasets to leverage your analysis and insights in your secure environment.
COMPREHENSIVE SOURCING
Cover press releases, news stories and financial social media on companies, currencies, commodities, central banks, cryptocurrencies, macroeconomics and ETF's 24/7.
VISUAL ANALYTICS
Our data is presenting on easy to use interactive dashboards on the web or on your phone, get alerts when data changes, and drill into details. Furthermore, add any datasets to leverage your analysis and insights in your secure environment. Alpha is at your fingertips.
(Views and recommendations given in this section are for research purposes only. Please consult your financial adviser before taking any position in the stock/s or currencies mentioned.) Neither First to invest. nor any of its officers, employees, representatives, agents or independent contractors are, in such capacities, licensed financial advisors, registered investment advisers or registered broker-dealers. First to invest does not provide investment or financial advice or make investment recommendations. Nothing contained in this communication constitutes a solicitation, recommendation, promotion, endorsement or offer by First to invest of any particular security, transaction or investment. Our goal as publishers of financial information is to provide research and analysis of investments to our subscribers