Alternative data: Facebook case study
Facebook was the most-loved holding of hedge funds before the stock's epic plunge on Thursday, resulting in a massive multibillion-dollar loss for the so-called smart money on Wall Street.
According to CNBC, 848 hedge funds tracked by Goldman Sachs, 97 had Facebook as a top 10 holding, according to the firm's May "Hedge Fund Trend Monitor" report. The note, tracking $1.6 trillion in hedge fund long positions, used the latest available filings for the first quarter. The cumulative hedge-fund stake comprised 5 percent of Facebook's equity shares outstanding, according to the report. As the shares dropped 19 percent Thursday more than $119 billion in market cap vanished. Five percent of the stock value drop is a nearly $6 billion loss in total for the hedge-fund managers.
The main question: did anyone had the chance to be aware that something wrong can happen?
The answer is yes!!!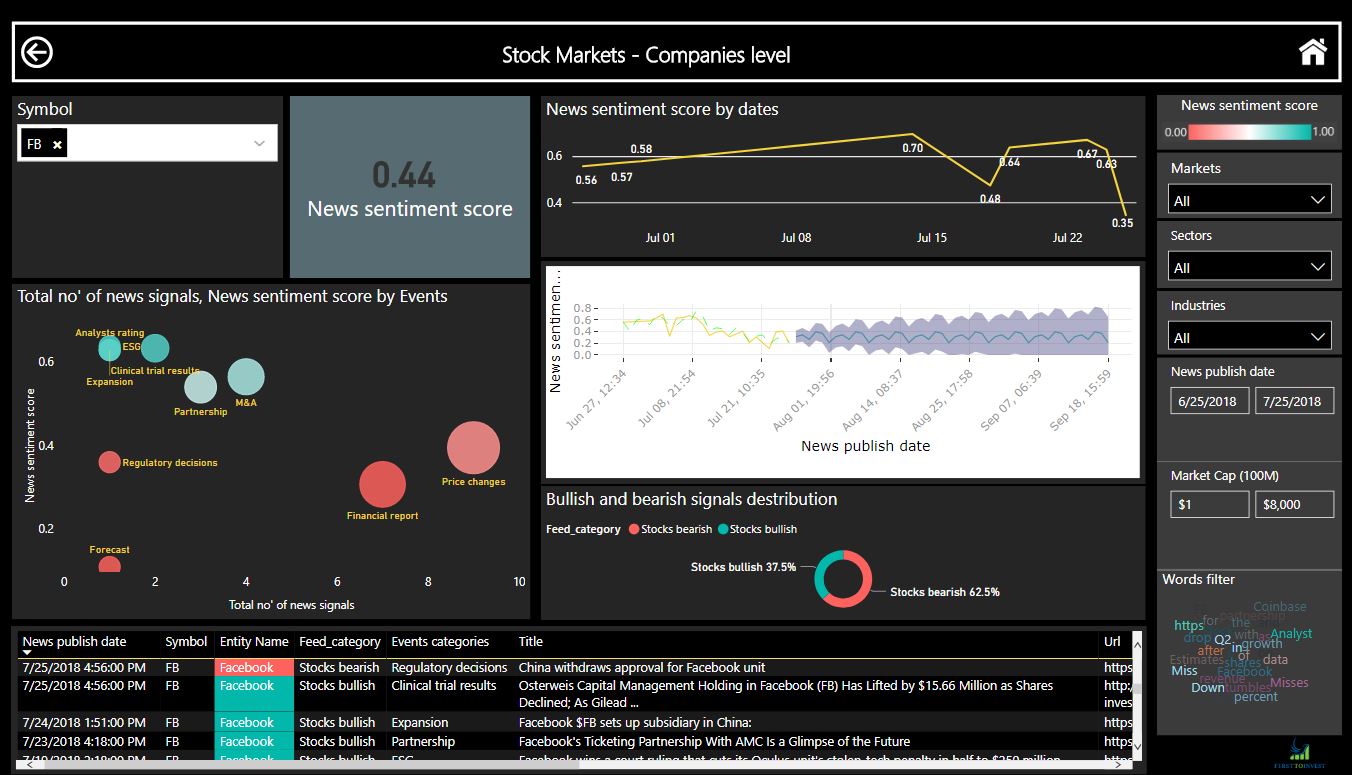 This dashboard presents our data on facebook using event driven score on a scale between 0-1 (above 0.5 consider bullish  and below 0.5 consider a bearish).
Facebook's 30 days event driven score volatile up and down as bullish related events, as well as bearish ones, accord during the period. On Jul 18 Retail Excellence suspends partnership with Facebook following Channel 4 'Dispatches' exposé which cause the sentiment score to cross down the 0.5 thresholds (The first sign for bearish sentiment). The news sentiment score jump over the 0.5 mark as analyst provides a positive forecast for the company Q2 upcoming report as well as new partnership and winning in court push the sentiment score up to 0.67.
On Jul 25, during the trading hours and before the quarterly report published, an event from Chine cause Facebook news sentiment score do move down from 0.63 to 0.49. The Chinese government withdraws approval for facebook unit in China territory. This event probably will not trigger a massive sale of Facebook stock, however as the thresholds triggered, our clients that set up an alert for Facebook news sentiment change got a notification and was aware to the company news sentiment score and the negative change, along with the thresholds crossing on Jul 18. In addition, the forecast for Facebook news sentiment suggests a scoring of 0.35 which is a strong bearish sentiment.
Having said that, no one could anticipate the market reaction, but early notify of news sentiment score cross its minimum target thresholds on Jul 18 and 25 made our clients more alert to the company situation.
---
Big data and NLP technologies to collect, structure, and reveal events from news articles, press releases, and financial social media and share it with our clients via dashboards or API.
(Views and recommendations given in this section are for research purposes only. Please consult your financial adviser before taking any position in the stock/s or currencies mentioned.) Neither First to invest. nor any of its officers, employees, representatives, agents or independent contractors are, in such capacities, licensed financial advisors, registered investment advisers or registered broker-dealers. First to invest does not provide investment or financial advice or make investment recommendations. Nothing contained in this communication constitutes a solicitation, recommendation, promotion, endorsement or offer by First to invest of any particular security, transaction or investment.)