ESG events case study
The importance of environmental, social and governance (ESG) factors, in investment decision making, as Boston Consulting Group point out in their article; Investors Care More About Sustainability Than Many Executives Believe, that 75% of senior executives in investment firms see ESG factors as materially important to their investment decision. The disconnect is evident that only 60% of companies have a sustainability strategy, and just 25% have developed a clear business case for sustainability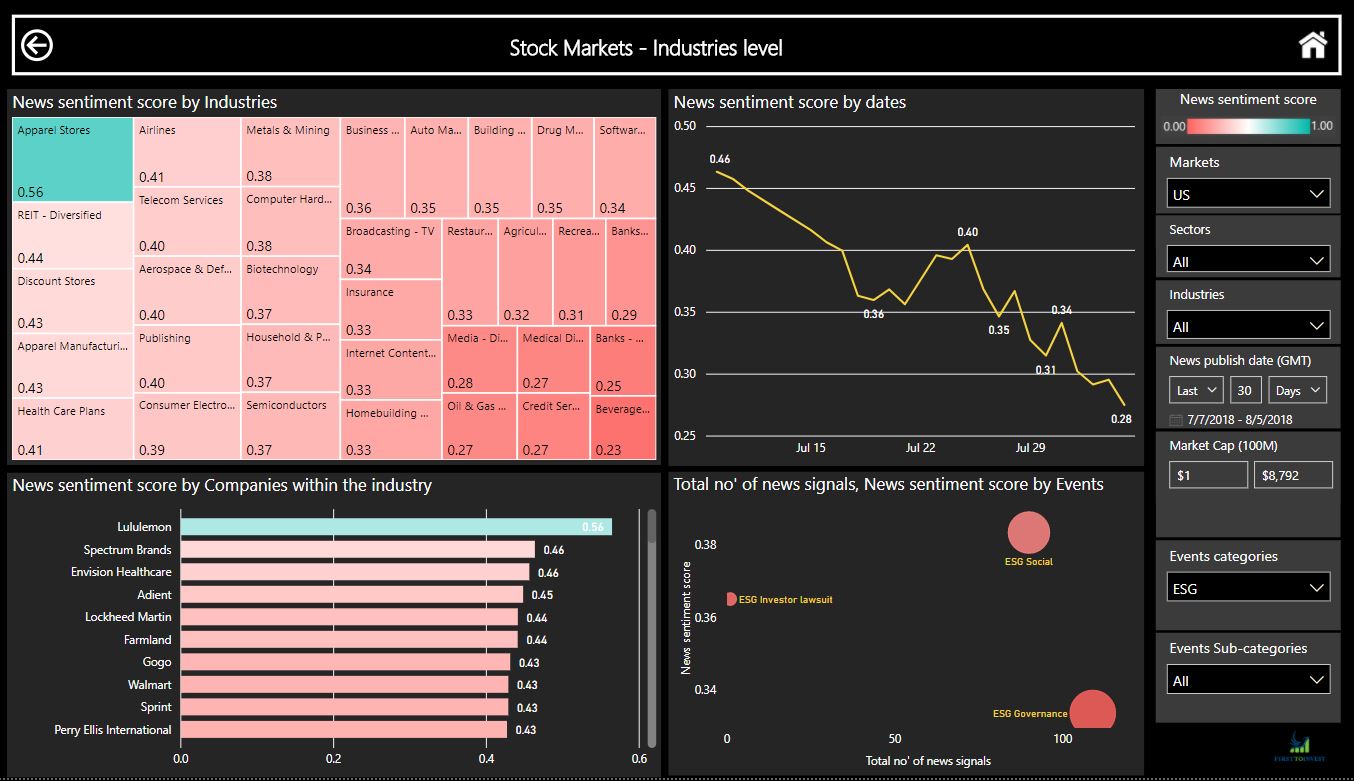 This dashboard presents our data on ESG events using news sentiment score on a scale between 0-1 (above 0.5 consider bullish sentiment and below 0.5 consider a bearish sentiment).
Alternatively, we can find these events on the News signals dashboard sorted by ESG event category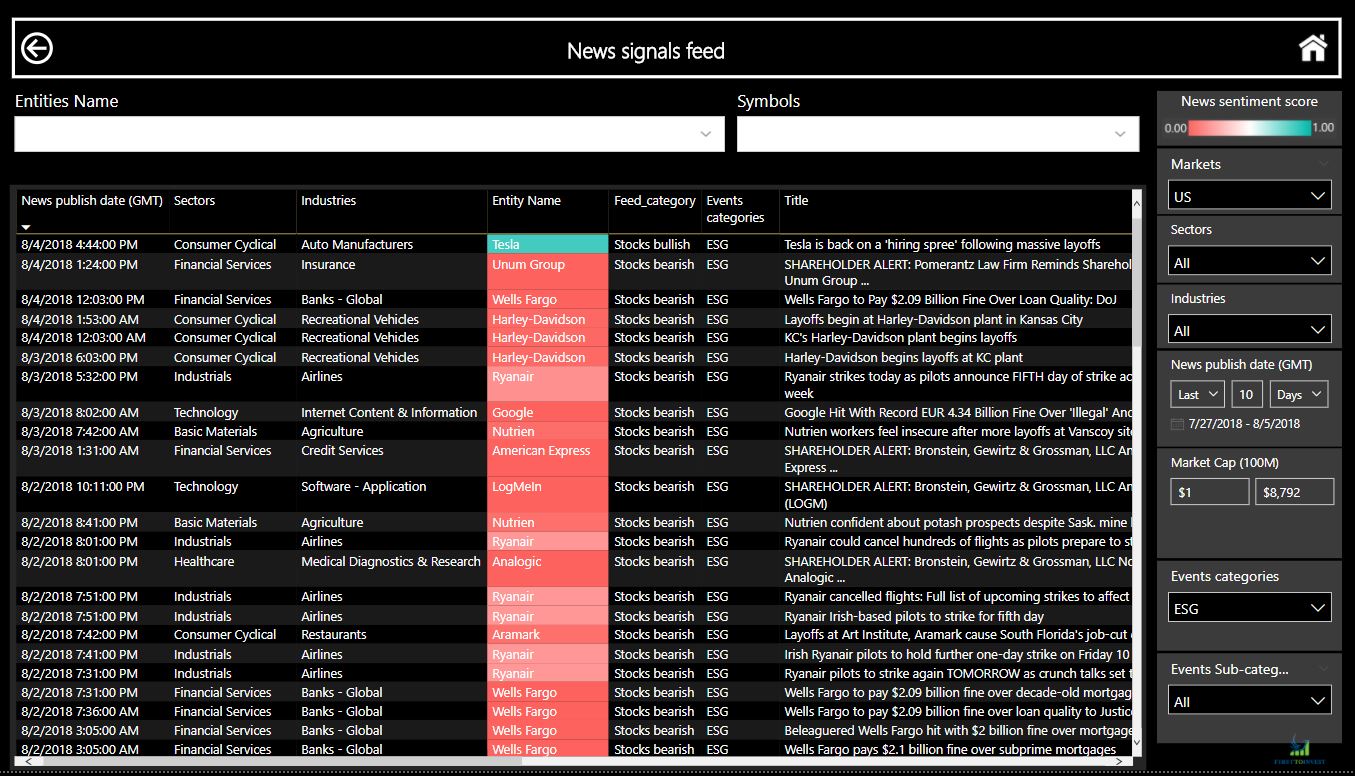 When we find an industry that we want to analyze further we can drill down to a company level to see was the event and how its impact on the company news sentiment score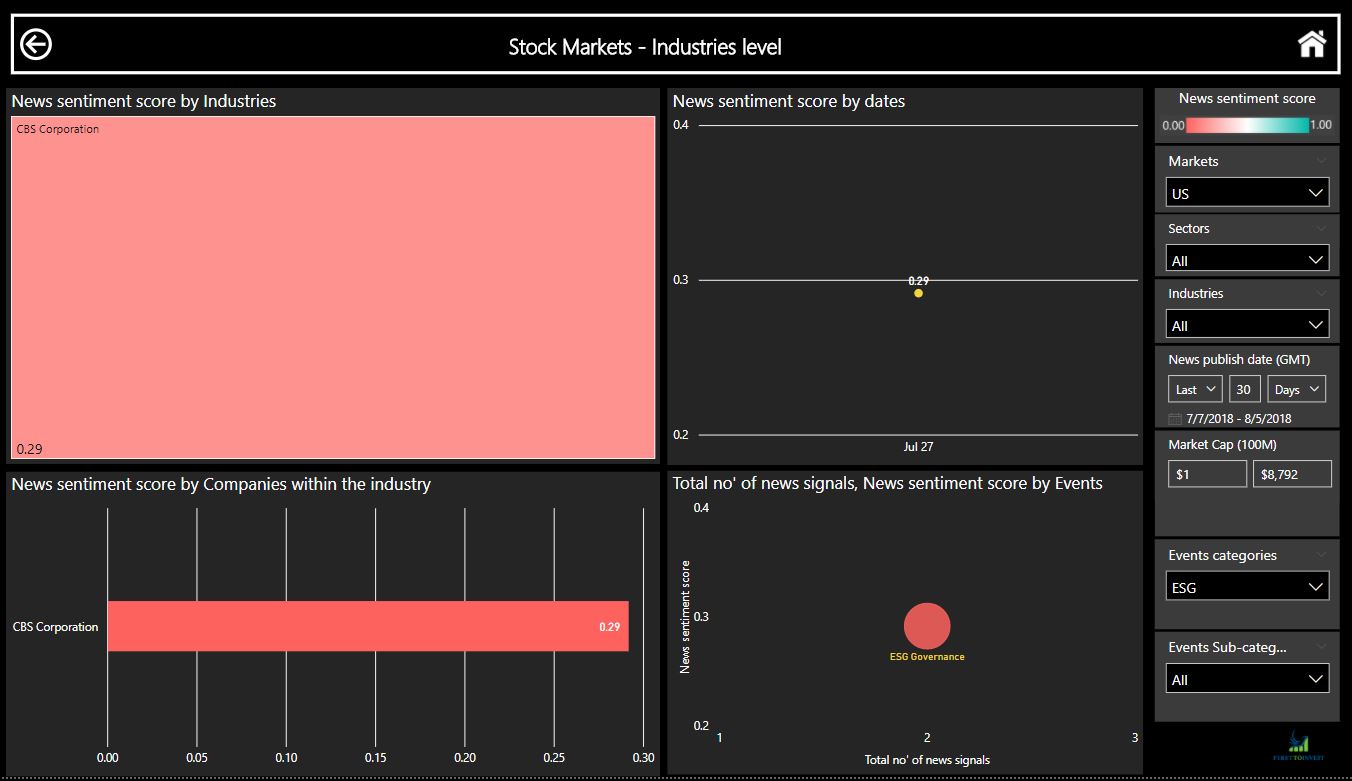 Drill down on the media industry for a 30 days period we can find that CBS had ESG events which impact the companies news sentiment score. Moving to a news signals feed dashboard and we can see that CBS had 2 ESG events: Pomerantz Law Firm Investigates Claims On Behalf of Investors of CBS Corporation and the CEO was accused of misconduct allegations. These events send the Company news sentiment score to 0.29 which indicate strong bearish sentiment for the company.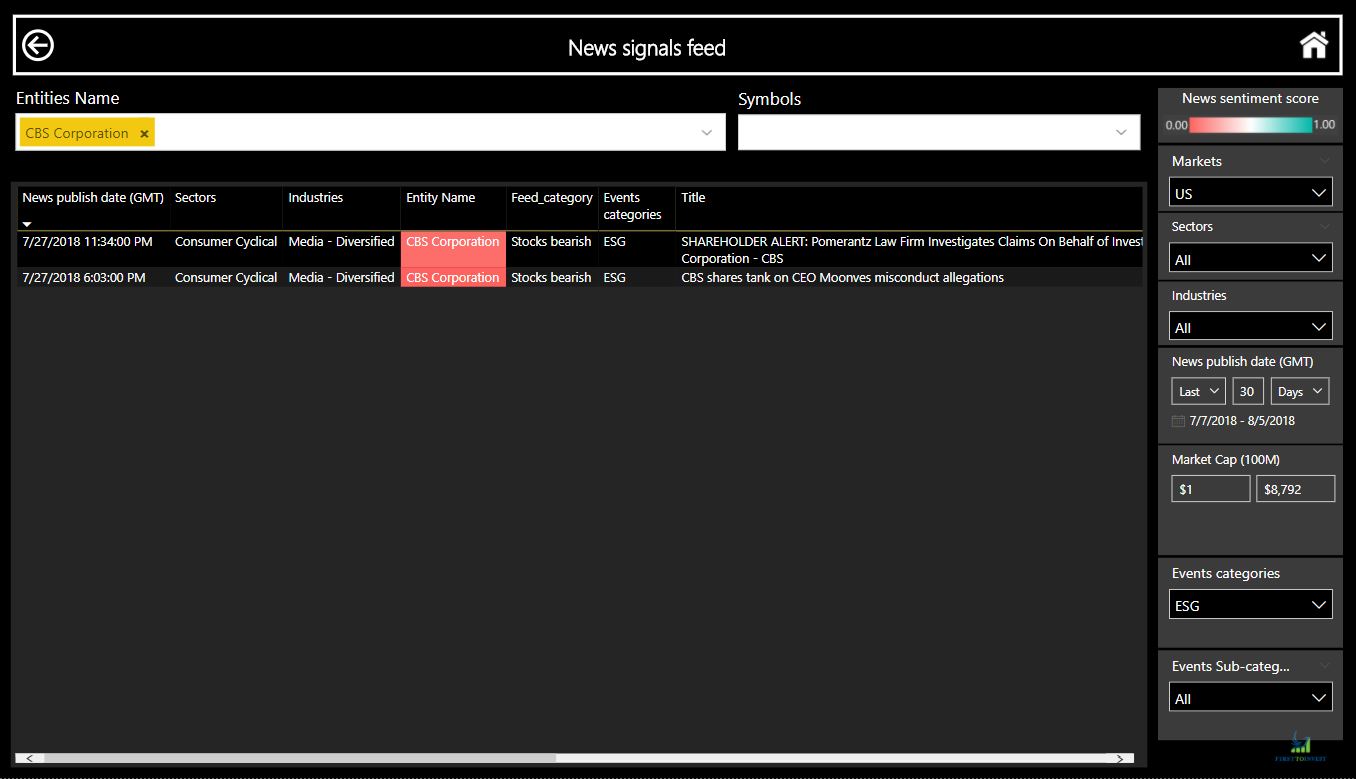 The ESG events category is function similarly to any other event category that we cover and can be found and sorted by in any types of dashboards and can be drill down to present the subcategories, in this case, Environmental, Social, and Governance.
---
Generating alpha using news sentiment on extracted events, presented on a visual analytics platform
Using big data and NLP technologies to generate alpha by collecting, structure and reveal hidden insights from unstructured text within tens of thousands of news articles, press releases, and financial social media. Our data is presenting on visually compelling, interactive dashboards on your PC and mobile.
Using a hybrid model to confirm the accuracy of data classification, context, and sources to ensure maximum value for our clients. Generating news sentiment score based on relevancy, position, and strength of the signal on any level. Furthermore, connect additional datasets to leverage your analysis and insights in your secure environment.
COMPREHENSIVE SOURCING
Cover press releases, news stories and financial social media on companies, currencies, commodities, central banks, cryptocurrencies, macroeconomics and ETF's 24/7.
VISUAL ANALYTICS
Our data is presenting on easy to use interactive dashboards on the web or on your phone, get alerts when data changes, and drill into details. Furthermore, add any datasets to leverage your analysis and insights in your secure environment. Alpha is at your fingertips.
(Views and recommendations given in this section are for research purposes only. Please consult your financial adviser before taking any position in the stock/s or currencies mentioned.) Neither First to invest. nor any of its officers, employees, representatives, agents or independent contractors are, in such capacities, licensed financial advisors, registered investment advisers or registered broker-dealers. First to invest does not provide investment or financial advice or make investment recommendations. Nothing contained in this communication constitutes a solicitation, recommendation, promotion, endorsement or offer by First to invest of any particular security, transaction or investment. Our goal as publishers of financial information is to provide research and analysis of investments to our subscribers