Ford Motors layoffs event tracking using events detection and NLP system
Ford Motor (F) announced more job cuts as it continues to restructure, with thousands of salaried positions set to be axed.
The automaker will cut 7,000 jobs around the world by August, Ford said in a statement Monday. The cuts amount to 10% of Ford's global salaried workforce. It will save about $600 million annually.
Notifications will be sent to North American workers on Tuesday, while restructuring work continues in Europe, China, South America, and other international markets, Ford's Chief Executive Jim Hackett said in the email on Monday.
In the U.S. about 2,300 jobs will be cut through buyouts and layoffs. About 1,500 have left voluntarily or with buyouts, while another 300 have already been laid off. About 500 workers will be let go starting this week.
The layoffs are coming across a broad swath of the company including engineering, product development, marketing, information technology, logistics, finance, and other areas.
It was no surprise that when we used our event detection to monitor the company's layoffs events from multiple data sources during 2019,  5 more layoffs events were found, not at this scale, but still thousands of jobs across the globe.
These past 5  layoffs events were an indicator that the company was aiming for cost reduction using layoffs and salary cuts. It was impossible to know the quantity but the direction of the company was very clear.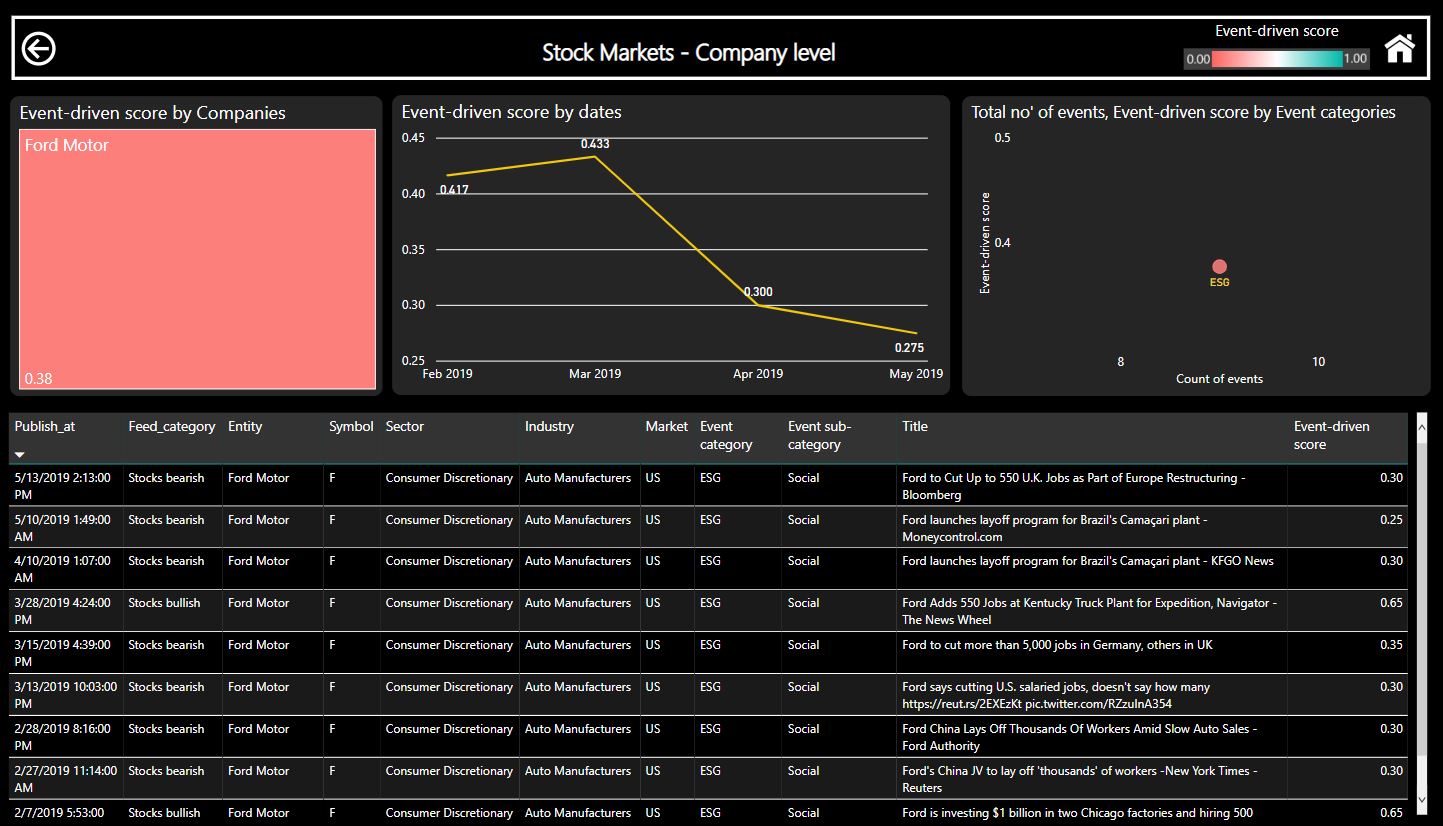 The layoffs event is a part of the ESG events category, and in Ford's case, the social event-driven score for 2019 is in the bearish spectrum of our model.
By using events detection and NLP, investors can monitor layoffs and job cuts events from multiple data sources across 10,000 companies from more than 15 markets globally, and use this data to gain more insights on the company's operational and financial performance.
---
In today's rapidly changing environment it is essential to be able to track corporate events such as financial statements including revenue, earnings and outlook, management change, regulatory decisions, M&A, new products, partnerships, ESG, sales, expansion into new markets, share offering and buybacks and much more…
Data is presented via visually compelling, interactive dashboards on your PC and mobile devices or as CSV file via FTP or API.
Our data and system are being used by world leading quants, quantamental, fundamental hedgefunds and assets managers.
Using a hybrid model to provide a high accuracy of data classification, context, and sources to ensure maximum value for our clients. Generating events scoring based on novelty, the position of the event, (header or news body), the event scoring index, and the repetition of the event in the media.
(Views and recommendations given in this section are for research purposes only. Please consult your financial adviser before taking any position in the stock/s or currencies mentioned.) Neither First to invest. nor any of its officers, employees, representatives, agents or independent contractors are, in such capacities, licensed financial advisors, registered investment advisers or registered broker-dealers. First to invest does not provide investment or financial advice or make investment recommendations. Nothing contained in this communication constitutes a solicitation, recommendation, promotion, endorsement or offer by First to invest of any particular security, transaction or investment. Our goal as publishers of financial information is to provide research and analysis of investments to our subscribers