Auto-manufacturer recalls events monitoring using events detection and NLP system
Manufacturers of any product—from toys to medicine to automobiles—must create items that are, above all else, safe to use. Not only is this essential to long-term brand value and corporate success, but it's also required by law. But while perfection is the goal, defects are bound to occur, especially in advanced products such as automobiles. When a safety defect does occur, auto manufacturers must initiate some form of recall to address the problem.
Most recalls are simple, routine matters. Manufacturers work with their dealer partners to take care of the issue in a transparent and timely fashion, usually during scheduled maintenance visits. Consumers are inconvenienced little and drive away happy because proactive action was taken. As a result, it's unusual for a recall to negatively impact new vehicle sales and market share or used vehicle prices.
On some occasions, however, a recall is serious enough to have a lasting effect. These cases commonly involve a large number of vehicles, numerous reports of severe injury or death, and extensive media coverage. These factors, along with the reputation for quality, dictate how much damage a brand suffers from a recall.
Auto recalls have become very prevalent in the news for the past few years. It seems like every other week, a manufacturer is announcing a recall. The Takata airbag and GM's ignition switch recalls are two of the big ones as of late.
An auto recall takes place when a manufacturer or the National Highway Traffic Safety Administration (NHTSA) identifies a safety-related defect that doesn't comply with a federal motor vehicle safety standard.
A recall event can impact the manufacture share price mainly in a negative way. This event has an impact between 2-30 days for minor recall and 2-4 months for a major recall, therefore, investors in the automobile industry should have the tools to track recall events globally, no matter if it is a minor or major recall. A study shows that the magnitude of recalls is significantly related to stock return volatility.
Support to this finding was in another work by CBR Research that examines the relationship between recalls and stock (share) price which indicates that the damage to stock prices caused by recalls was actually greater than the direct costs of recalls. However, this conclusion has been criticized and challenged on the argument that on an event-by-event basis 40% of reactions to recalls were positive. Others have re-asserted the predominance of the indirect costs of recalls, especially for certain types of recall. Recalls affecting components such as airbags, for example, produce a more negative effect than those that affect other parts of the car, such as the heating system.
From Jan 2019, we spot 27 recalls events within the top-10 auto manufacturers including Toyota Motor, Hyundai Motor, Volkswagen, BMW, Subaru, Ford Motor, Fiat Chrysler, General Motors, Honda Motor, and Mazda Motor by using our events detection system.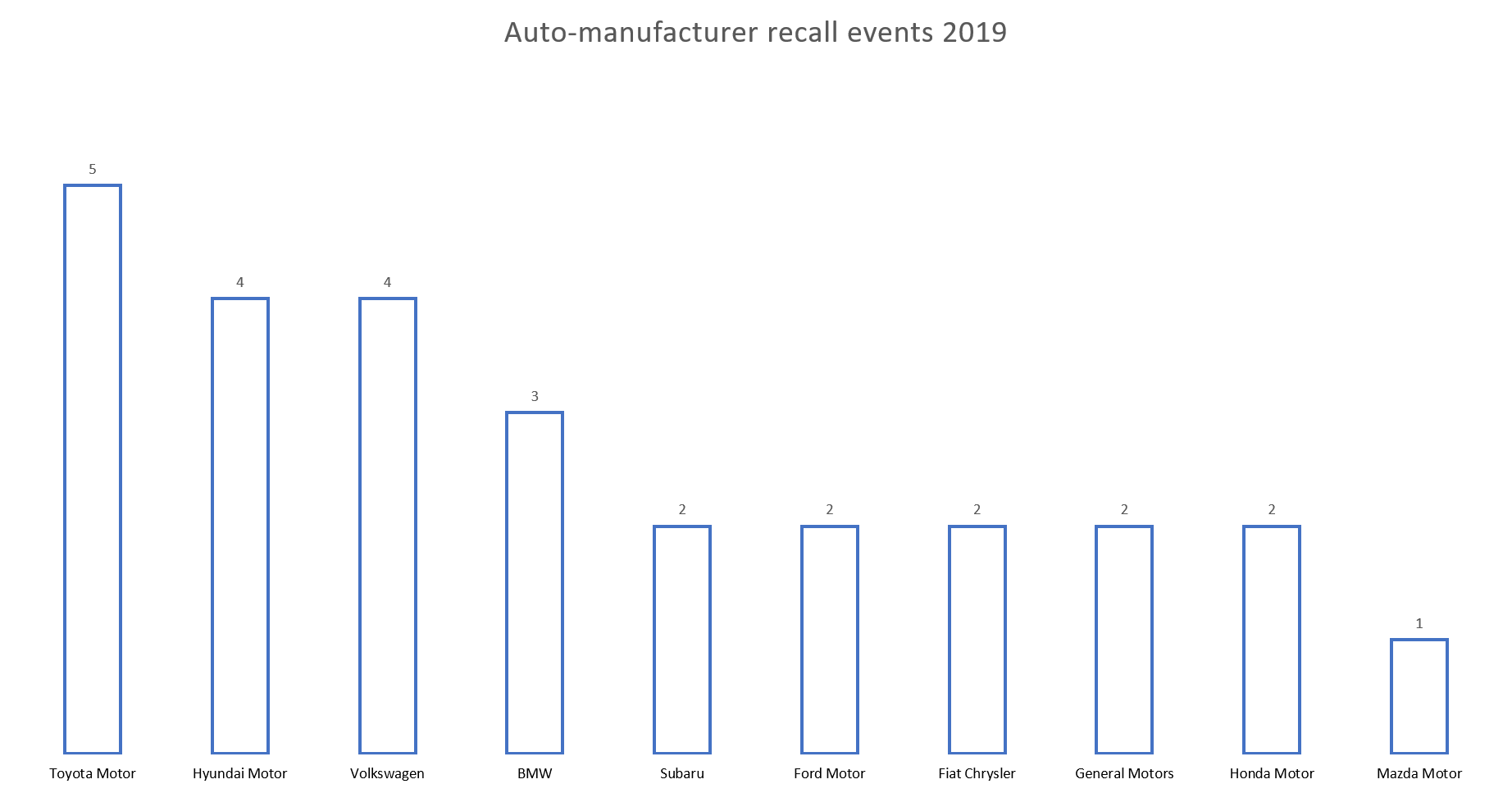 Ultimately, the cost of doing the repairs in a large scale recall and even the cost of compensating victims are generally smaller than the cost in sales due to a tarnished reputation. Once public awareness of a potential safety issue reaches critical mass, stories of defective and unsafe vehicles can take on a life of their own as customers file claims about accidents (after the fact) with the newfound belief that the car – and not the driver – were responsible.
Some of this happened to Toyota and older readers will recall that Audi was almost bankrupted in the 1980's by a similar issue – even though they were cleared of wrongdoing.
By using events detection and NLP system, investors can monitor manufacturer recalls across the globe in any sector and product type including drugs, machinery, airplanes, etc..  and act upon it.
---
Using big data and NLP technologies to capture alpha by collecting, structuring, and revealing events from news articles, press releases, and financial social media.
(Views and recommendations given in this section are for research purposes only. Please consult your financial adviser before taking any position in the stock/s or currencies mentioned.) Neither First to invest. nor any of its officers, employees, representatives, agents or independent contractors are, in such capacities, licensed financial advisors, registered investment advisers or registered broker-dealers. First to invest does not provide investment or financial advice or make investment recommendations. Nothing contained in this communication constitutes a solicitation, recommendation, promotion, endorsement or offer by First to invest of any particular security, transaction or investment.)