PepsiCo VS Coca-Cola
As the beverage industry undergoes a transformation with carbonated soft drinks losing their position and consumers preferring "healthier" beverages, cola giants have focused their attention on other avenues to spur their sales. One such route is the sparkling water category which has witnessed spectacular growth rates. PepsiCo launched its own sparkling water brand called Bubly. Given the enormous interest in this space, PepsiCo's $3.2 billion acquisition of SodaStream, the number 1 sparkling water brand by volume in the world, and the leading manufacturer and distributor of Sparkling Water Makers, does not come as much of a surprise.
The deal gives PepsiCo a new line through which it can reach customers in their homes rather than through stores. It comes as U.S. grocers are in a state of transformation, with 70 percent of shoppers expected to buy groceries online by 2025, according to Food Marketing Institute and Nielsen. Meantime, retailers are squeezing brands on price and giving increasing shelf-space to upstart and private label brands.
Coca-Cola has its own answer to this acquisition by the unveiling of the new-look designs could well have been brought forward to counter the news of PepsiCo's SodaStream acquisition. Coca-Cola's Zero Sugar variant has achieved substantial gains across the UK in recent years, most notably a 29% increase in 2017, so this move to unify its packaging design with the main brand will only strengthen the brand's sales still further.
A core brand packaging revamp like this will have been long in the planning, but the timing of Coca-Cola's announcement provides the most compelling evidence yet that it is keeping a close watch on the progress of closest challenger PepsiCo. The unveiling of the new-look designs could well have been brought forward to counter the news of PepsiCo's SodaStream acquisition, barely 24 hours after the latter featured heavily in mainstream global media. This, in turn, came days after Coca-Cola revealed plans to invest in sports drinks brand BodyArmor.
When looking at the companies events during the past 30 days we can find that Coca-Cola had some positive impact events such earnings and revenue top expectation as well as new partnerships, however, an ESG event (employees strick) has impacted negatively on the company sentiment.
PepsiCo had some key events during the past 30 days as well including CEO changes, news partnerships and the acquisition of SodaStream.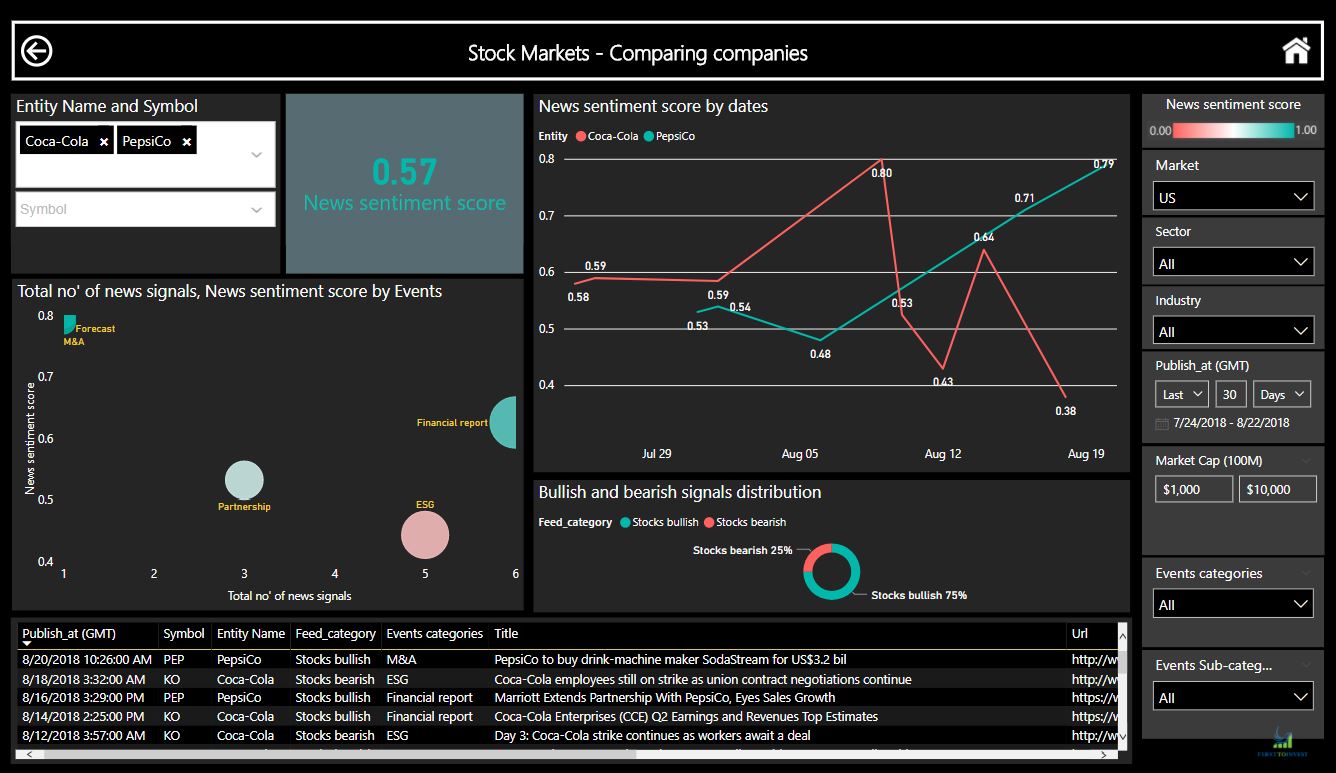 (Event-driven score is scaled between 0-1 where bellow 0.48 consider as bearish  based on events during the filtered period, above 0.52 consider bullish) clicking here for our interactive dashboard trial
The event-driven score of both companies for the past 30 days (which include all the events that took place during the period) was on the bullish side, with 0.59 to PepsiCo and 0.56 to Coca-Cola. It seems that both companies investing in the healthy trend partnerships as we can see in their events feed during the period.
Sales of sugary, carbonated beverages have been on the decline for a while now, with consumer preferences tilting towards more healthier options such as teas and flavored waters. Diet drinks, which were once considered healthy, have received a lot of flak with increasing concerns about the dangers of artificial sweeteners. This shift away from carbonated drinks and diet sodas has precipitated the growth of the sparkling water category. Given that nationally, sparkling water has been growing at a much higher rate than the overall bottled water segment, 38% growth last year, compared to 7% for the whole category.
---
Using big data and NLP technologies to capture alpha by collecting, structuring, and revealing events from news articles, press releases, and financial social media.
(Views and recommendations given in this section are for research purposes only. Please consult your financial adviser before taking any position in the stock/s or currencies mentioned.) Neither First to invest. nor any of its officers, employees, representatives, agents or independent contractors are, in such capacities, licensed financial advisors, registered investment advisers or registered broker-dealers. First to invest does not provide investment or financial advice or make investment recommendations. Nothing contained in this communication constitutes a solicitation, recommendation, promotion, endorsement or offer by First to invest of any particular security, transaction or investment.)