Coronavirus and companies' reaction on its implication
The World Health Organization official said other governments need to prepare for"domestic outbreak control" if the disease spreads in their countries. The spread has spooked global markets and threatened prospects for economic growth. an updated number as for Feb 09 reach to death toll for new coronavirus hits 805, exceeding that of SARS. The update death toll as to Feb 17 1775.
Efforts to contain the virus risk slowing growth in China. Growth had already fallen in the fourth quarter to a 30-year low of 6%. The virus impact prompted Capital Economics to almost halve its estimate for first-quarter growth to 3% from 5.7%.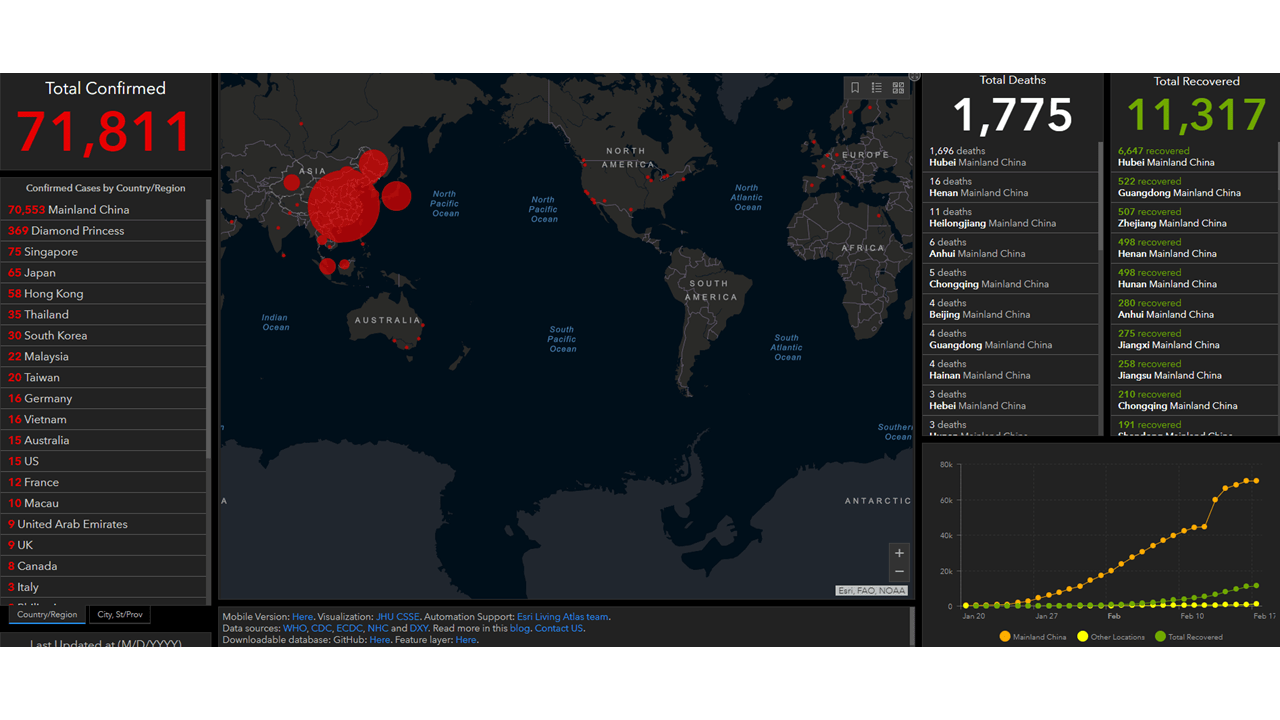 Source – gisanddata.maps.arcgis.com
The word "virus" or "coronavirus" was mentioned by 27 different companies on earnings calls this week, according to a CNBC screening using FactSet. The virus is scaring Chinese citizens out of leaving their homes, pushing governments to consider or enact travel bans, and forcing investors away from stocks that rely on Chinese consumers.
Now, the virus is worrying management at big U.S. businesses, including Apple, Starbucks and McDonald's to name a few and enforce them to suspend their operation in China.
Here are the global companies affected by Coronavirus
Apple to close retail stores outside Greater China until March 27
Apple Closes All Retail Stores in Italy Due to Coronavirus
Alibaba's AliExpress warns of possible coronavirus delays
Anglo American's De Beers says diamond sales slammed by coronavirus
Hugo Boss sees coronavirus hit to sales spreading from Asia
Russia's Aeroflot to suspend Hong Kong flights amid coronavirus fears
Samsung suspends smartphone factory in S.Korea again after new coronavirus case
Southwest Airlines Down on Coronavirus-Induced Q1 RASM View
Swatch Group CEO sees "massive" temporary hit in China from coronavirus
XCMG Supports the Construction of Multiple Hospital Amid Novel Coronavirus (Covid-2019) Outbreak
Air China cuts flights between China and U.S. due to coronavirus epidemic
Facebook warns of hit to Oculus production from cornonavirus
Tesla temporarily closes China stores amid coronavirus fears
Canada Goose shares sink after cutting forecast due to coronavirus
Burberry's Retail Sales In China To Hit As 24 Stores Closed Due To Coronavirus
Lifeblood of Amazon merchants threatened as coronavirus infects Chinese workers
Volvo's China operations at 'standstill' amid virus outbreak
Dunkin' closes half of China shops
Nintendo says delays to Switch production, shipping due to coronavirus 'unavoidable'
Cathay Pacific asks all employees to take three-week unpaid leave
Adidas closes "considerable" number of shops in China due to coronavirus
Royal Caribbean cancels eight China cruises on coronavirus fears
Cathay Pacific to cut 30% of capacity due to coronavirus
American Airlines suspends flights to and from Hong Kong
Hyundai, Kia suspend some production lines amid coronavirus-triggered crunch
Lufthansa extends flight suspension to Beijing and Shanghai until Feb. 28
Coronavirus outbreak to hit iPhone output if China extends Foxconn factory halt into a second week
Haidilao International chain shutters mainland restaurants indefinitely amid virus outbreak
Sinopec cuts Feb. daily refinery output 12% on virus demand hit
Hyundai sees output cut as 'inevitable' amid coronavirus woes
Uber suspends 240 accounts in Mexico to prevent coronavirus spreading
Apple to close all China mainland stores due to virus outbreak
HSBC start closing branches to limit virus spread
Starbucks closes 2,000 Chinese branches
McDonald's closes all branches in China's virus-hit province of Hubei
Levi's shuts half its China stores on coronavirus outbreak, expects financial hit
Ford Motor said Friday it is extending the Chinese New Year holiday for two days until Feb. 2
Luckin Coffee's Value Drops as Virus Forces Store Closings
Air France joins China flight exodus as virus unnerves cabin crew
Samsung Electronics extends holiday closure for 'some production facilities' in China
Facebook tells employees to stay home as coronavirus spreads
Germany's Lufthansa cancels flights to China due to coronavirus
British Airways cancels all flights to mainland China as Wuhan coronavirus spreads
Air Canada cancelling select flights to China in response to coronavirus
United Airlines suspends some U.S. flights to China as demand drops over virus fears
Yum China temporarily closes some KFC, Pizza Hut stores in Wuhan
Shanghai Disney to be closed from Saturday to help prevent spread of virus
summary of coronavirus impact on global public companies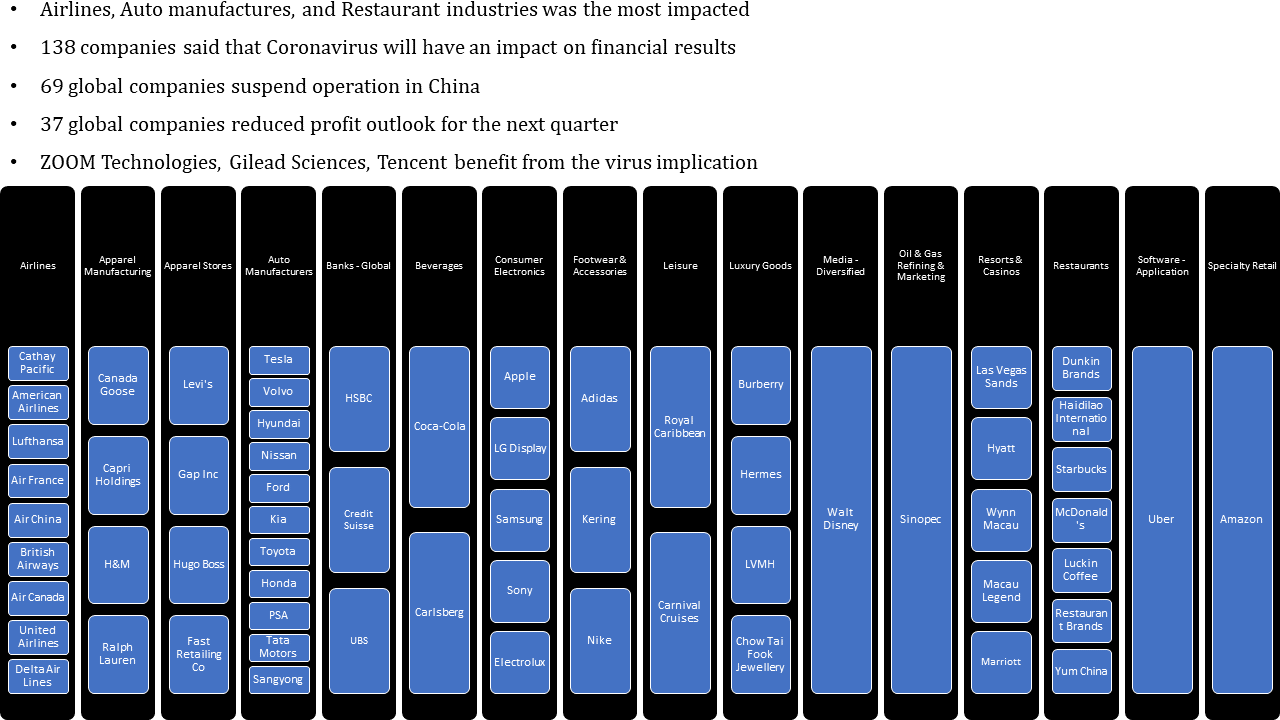 These events were spot on using big data and NLP technology to find companies that suspend operation in China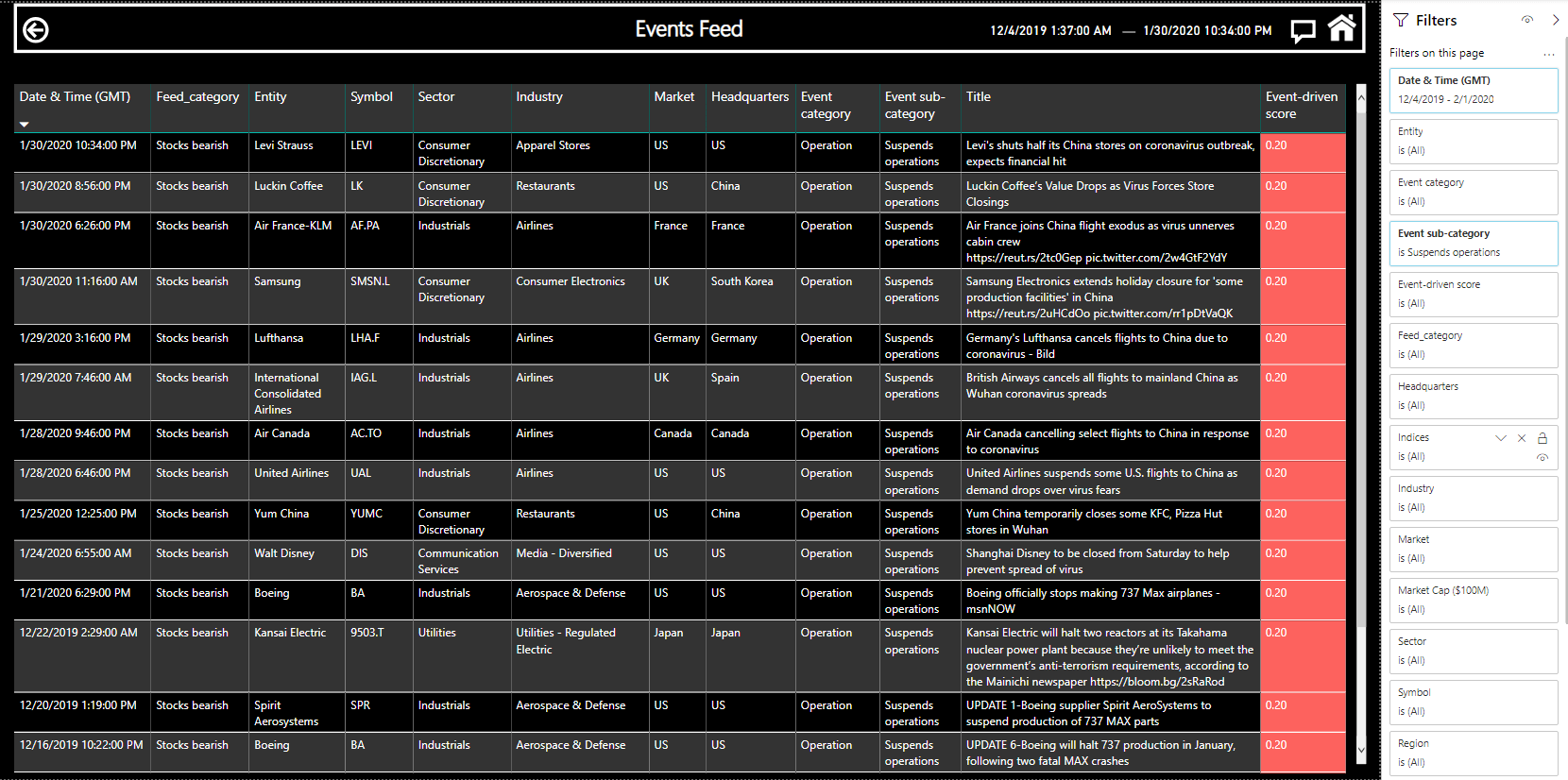 As the Virus continue to speard to in China and other regions, we expect to see more and more global companies with significant footprints in China to suspending operations as they respond to the outbreak of the coronavirus.
On the positive side, doctors from Thailand combined the anti-flu drug oseltamivir with AbbVie's Lopinavir and ritonavir, anti-virals used to treat HIV, success treating virus with drug cocktail, the Thailand ministry is awaiting research results to prove the findings. If the clinic results will be approved, AbbVie could see a dramatic boost in sales.
More recently, Gilead Sciences drug prevents type of coronavirus in monkeys; raises hope for China trials
---
Big data and NLP technologies to collect, structure, and reveal events from news articles, press releases, and financial social media and share it with our clients via dashboards or API.
(Views and recommendations given in this section are for research purposes only. Please consult your financial adviser before taking any position in the stock/s or currencies mentioned.) Neither First to invest. nor any of its officers, employees, representatives, agents or independent contractors are, in such capacities, licensed financial advisors, registered investment advisers or registered broker-dealers. First to invest does not provide investment or financial advice or make investment recommendations. Nothing contained in this communication constitutes a solicitation, recommendation, promotion, endorsement or offer by First to invest of any particular security, transaction or investment.)