The Impact of Coronavirus on South Korea Consumer Discretionary Sector
Coronavirus impacts South Korea's consumer discretionary companies strongly as it's force shutting down, suspend manufacture, closing stores, supply-chain disruption etc…As the Consumer Discretionary mainly relies on physical presence, the impact of COVID-19 made shocks to this sector in South Korea and basically, in every country around the world.
South Korea reported its first case on January 20, but the number of daily new cases stayed in the single digits through mid-February. Soon afterward, the number of infections skyrocketed as the virus spread rapidly through a church in the southeastern city of Daegu. Shortly after, South Korea has successfully controlled its coronavirus outbreak. Since its peak on February 29, the daily number of new confirmed cases has been decreasing.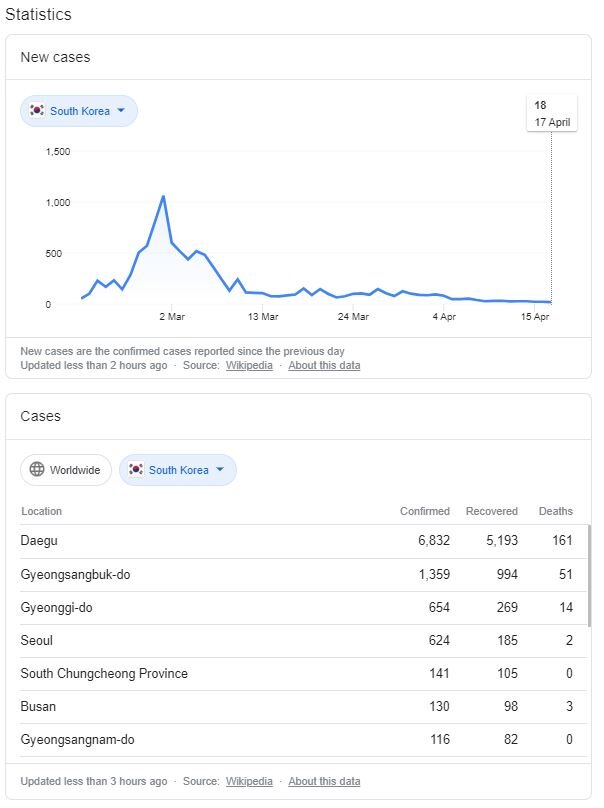 Source: Google
While the number of Coronavirus cases is currently low in South Korea, the virus continues to claim more life globally, which in return affect the global and local business in South Korea and particularly the consumer discretionary companies. As evidence shows in the South Korean exports for the first 10 days of April tumbled as the coronavirus health crisis upended global supply chains and knocked demand.
Here is the data representation of key operational and financial events of South Korea's companies between 01.22.2020 – 04.16.2020. Our model allocates a score for each event i.e. event-driven score (a scale between 0-1, bearish <0.48, 0.52< bullish). The scoring model for each company, industry, and sector is an aggregate of all events during the selected period and score accordingly).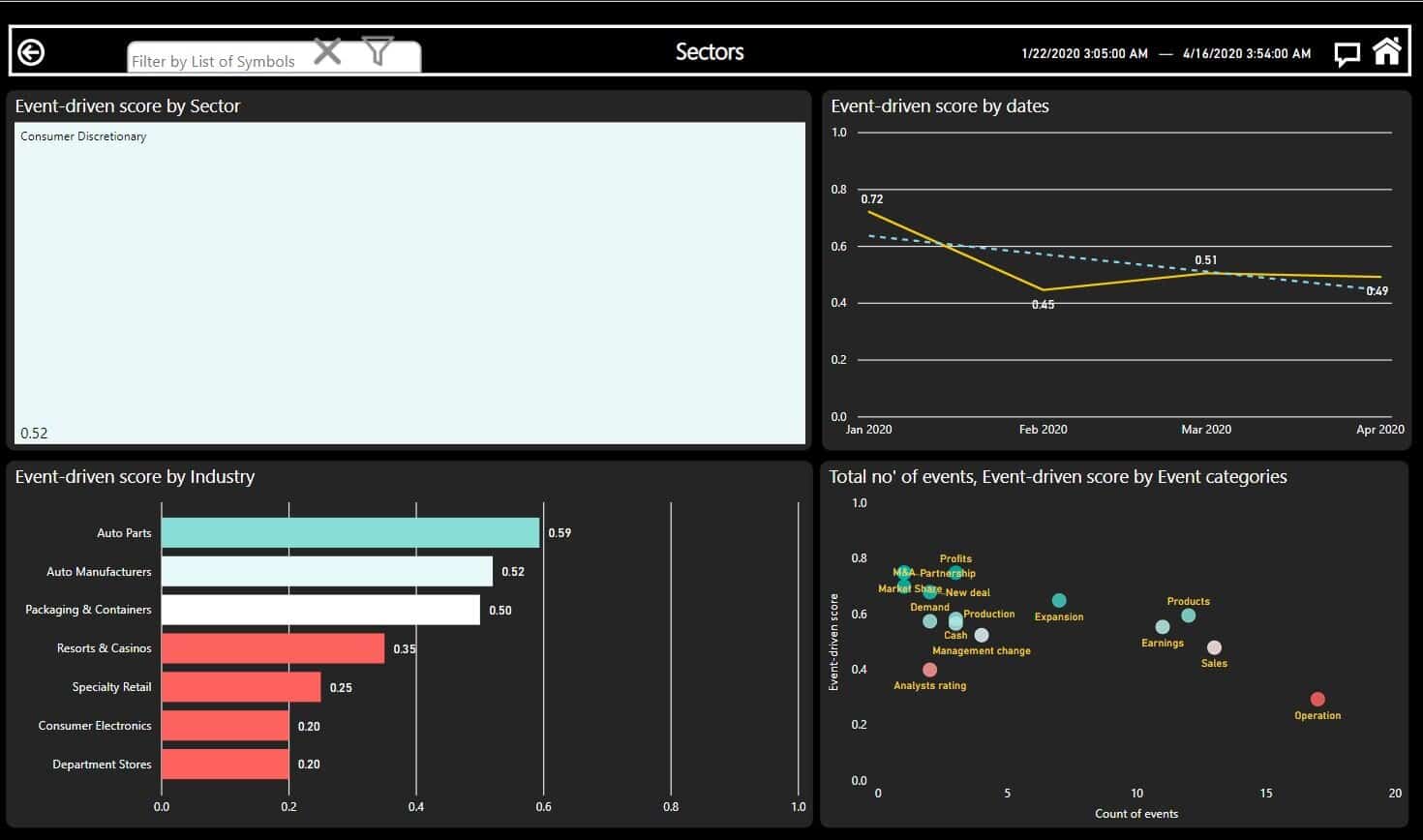 The sector event-driven score for the 90 days period was 0.52 (natural) and the latest score of 0.49 (bearish). Key events were closing stores, suspend operations, sales full.
The trend of consumer discretionary sector' event-driven score sees fall in Feb vs Jan, as cases of COVID-19 goes up sharply, followed by a recovery as South Korea government get control of the expansion of the virus during Mar-Apr
Drill down to industry level shows the scoring of each industry within the sector. While, the Auto parts industry is leading the sector, Department stores industry is found in the lowest level:
Event-driven score by industry
| | |
| --- | --- |
| Auto Parts | 0.59 |
| Auto Manufacturers | 0.52 |
| Packaging & Containers | 0.50 |
| Resorts & Casinos | 0.35 |
| Specialty Retail | 0.25 |
| Consumer Electronics | 0.20 |
| Department Stores | 0.20 |
Retailers – have responded to the COVID-19 pandemic by shuttering their doors. In the last few weeks, a number of major retailers and brands announced their temporary closures in South Korea and globally.
Auto manufacturers –  were heavily impacted on sales, however, diversification to manufacture medical products will cover some losses. Hyundai Motor has shut down one of its car factories in South Korea after it was revealed an employee had contracted the novel coronavirus. The company has started disinfection procedures in areas where the employee worked and quarantined five co-workers who made close contact with the infected employee.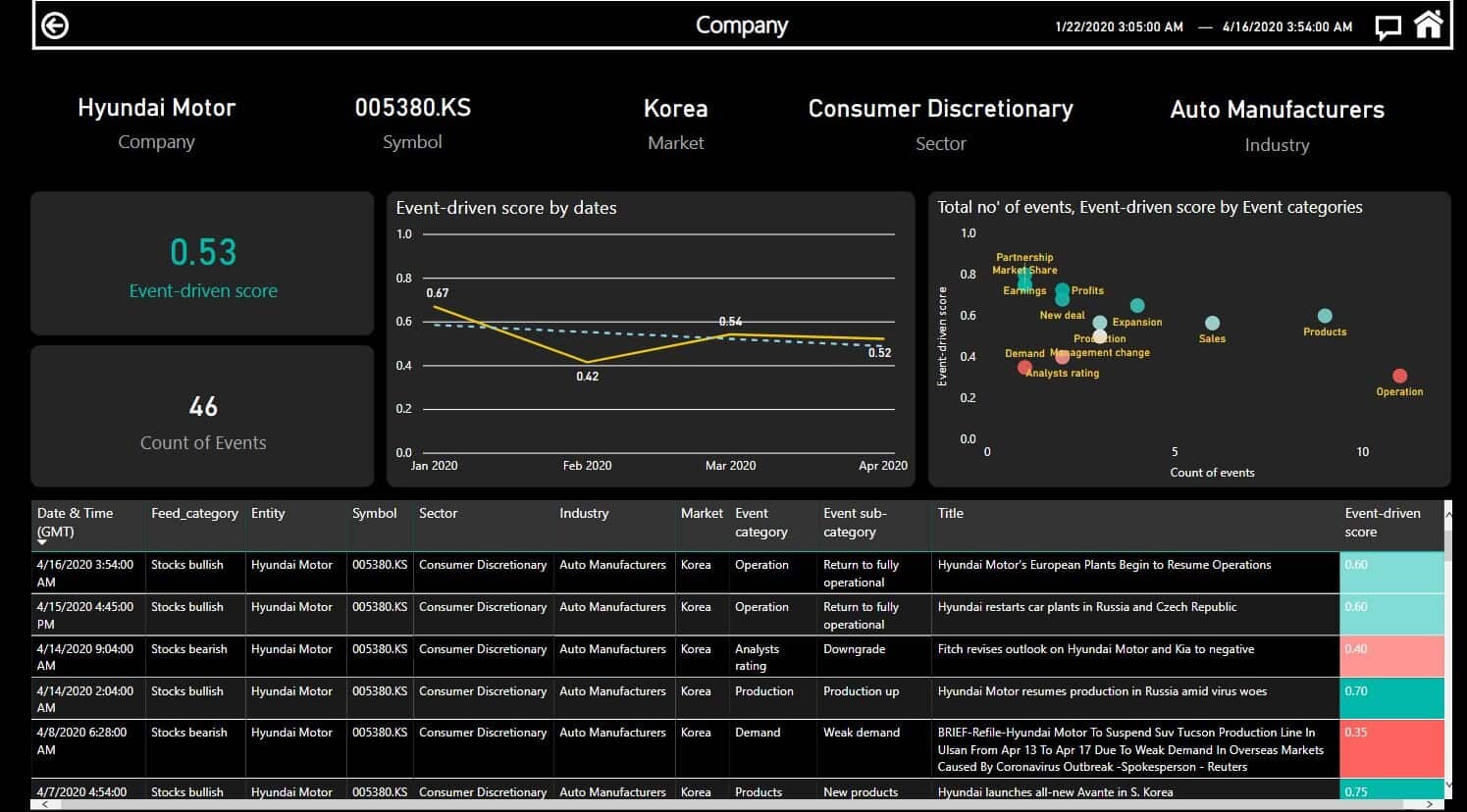 Kia, which manufactures several vehicles on similar platforms as Hyundai vehicles, has had to cut down production at its plants in Korea while suspending work in China.
Resorts & Casinos – According to the KCA, 16 foreign-only casinos in South Korea saw a 62.1% drop on-year in the number of gamblers in the second week of March from 59,362 to 22,493. The sales nose-dived 79.5 percent from 36.6 billion won to 7.5 billion won in the same period. Moreover, these casinos have been left out from the government's coronavirus relief loans which impact the financial strength of these casinos.
Packaging & Containers – As export activists decline on a global scope, in South Korea has suffered for a decline of 11.7%, the steepest decline in three months, and a big swing from a 4.6% increase in January. This has a direct impact on the Packaging & Container companies.
South Korea consumer sentiment index
These bearish event-driven scores for the South Korea consumer discretionary sector and its industries can be validated by South Korea consumer sentiment index which plunged to an 11-year low of 78.4 in March 2020 from 96.9 in the previous month, falling sharply for the second month as coronavirus fears took a heavy toll. The sharp drop was explained by a deterioration of all six sub-indexes: future domestic economic conditions (-14 points to 62), current domestic economic conditions (-28 points to 38), current living standards (-8 points to 83), future living standards (-10 to 83), and future household spending (-13 points to 93).
To conclude, South Korea consumer discretionary sector is found in a bearish territory which can be seen based on our model and consumer sentiment index. Having said that, it is in much better shape than other markets around the world which are struggling to keep business open. Moreover, President Moon Jae-in said a key priority for his government will be protecting jobs as it works to restore the economy from the damage caused by the pandemic, Moon said in a speech Sunday 04.19.2020.
---
ALTERNATIVE DATA FOR ALPHA
Big data and NLP technologies to collect, structure, and reveal events from news articles, press releases, and financial social media and share it with our clients via dashboards or API
(Views and recommendations given in this section are for research purposes only. Please consult your financial adviser before taking any position in the stock/s or currencies mentioned.) Neither First to invest. nor any of its officers, employees, representatives, agents or independent contractors are, in such capacities, licensed financial advisors, registered investment advisers or registered broker-dealers. First to invest does not provide investment or financial advice or make investment recommendations. Nothing contained in this communication constitutes a solicitation, recommendation, promotion, endorsement or offer by First to invest of any particular security, transaction or investment.)