Alternative data: Netflix outperform in Q3 2019
We saw the shift in Netflix $NFLX from the past quarter using key events that took place during 3Q. The streaming-video pioneer beat subscription estimates thanks to growth in countries like Brazil and India. The third season of Stranger Things helped drive business, drawing a record 64 million households.
In total, more than 6 million new viewers signed up last quarter. Barely 500,000 of them were in the U.S.
To track Netflix's core events, we use big data and NLP technology to search and extract key events that have a positive or negative effect on the company's performance. Each event was scored based on our model which indicates the direction (positive or negative) and duration (long/short term).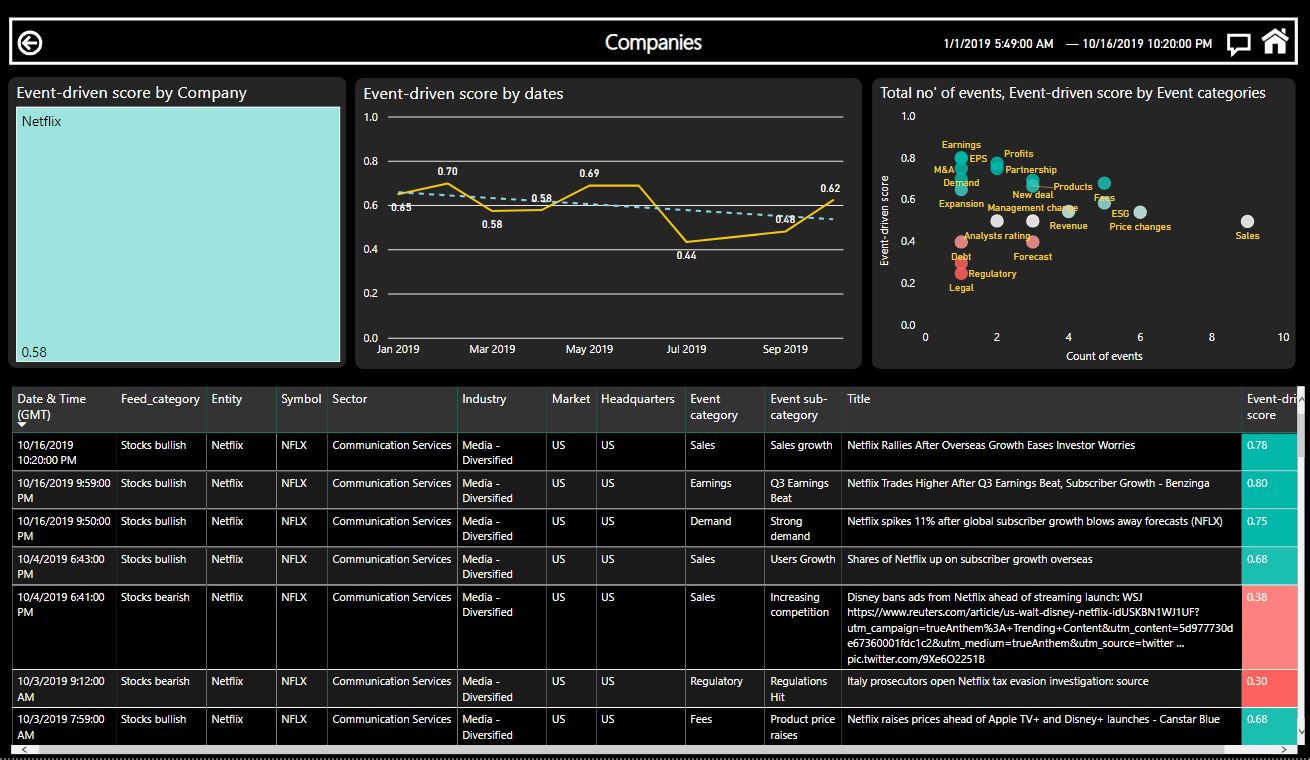 (0>Bearish<0.48-0.52>Bullish<1)
Netflix' event-driven score cross the 0.5 mark tougered the bullish side on Oct 03, this indicate the shift from the bearish teritury to the bullish side. On longer trend view, the event-driven trend line is steering towards a down trend which indicate a bearish teritory in the near future. This, will be supported by the increasing compatetion from Netflix reviels.
Apple TV and Disney are two highly anticipated streaming platforms that are going to shake up the space next month. Specifically Disney, with its massive library of content that they have been accumulating for years and the firm's savvy acquisitions that have all been leading up this digital streaming product.
The following table contain key events from the 3Q 2019 which lmpact Netflix operational and financial performance
[table id=17 /]
In today's noisy environment, it is essential to have a bigger and clearer picture of companies and countries financial activities by being able to collect, structure, and reveal important events in order the capture alpha.
---
Using big data and NLP technologies to capture alpha by collecting, structuring, and revealing events from news articles, press releases, and financial social media.
(Views and recommendations given in this section are for research purposes only. Please consult your financial adviser before taking any position in the stock/s or currencies mentioned.) Neither First to invest. nor any of its officers, employees, representatives, agents or independent contractors are, in such capacities, licensed financial advisors, registered investment advisers or registered broker-dealers. First to invest does not provide investment or financial advice or make investment recommendations. Nothing contained in this communication constitutes a solicitation, recommendation, promotion, endorsement or offer by First to invest of any particular security, transaction or investment.)