2018 Event Statistics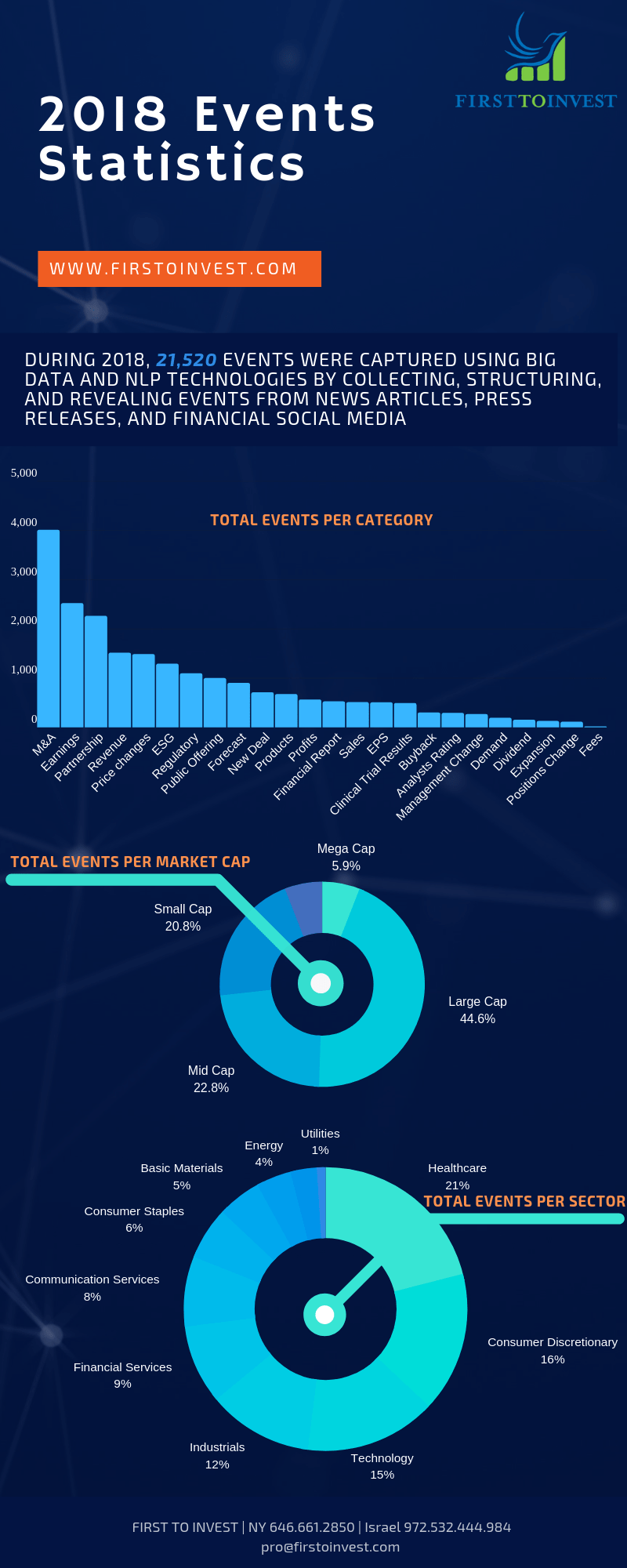 ---
Using big data and NLP technologies to capture alpha by collecting, structuring, and revealing events from news articles, press releases, and financial social media
Our data is presented via visually compelling, interactive dashboards on your PC and mobile device or as CSV file.
Using a hybrid model to provide a high accuracy of data classification, context, and sources to ensure maximum value for our clients. Generating events scoring based on novelty, the position of the event, (header or news body), the event scoring index, and the repetition of the event in the media.
Event Categories
In today's rapidly changing environment it is essential to be able to track corporate events such as M&A, new deals, partnerships, ESG, regulatory decisions, management and stakeholder changes, expansions to new markets or product categories, new products, price changes, new agreements, FDA decisions, financial reports related events, macroeconomics, and much more…
Comprehensive Sourcing
Cover press releases, news stories, and financial social media on companies, currencies, commodities, central banks, cryptocurrencies, macroeconomics, and ETFs, 24/7.
Visual Analytics
Our data is presented on easy to use interactive dashboards on the web or on your phone. In addition, you can get alerts when data changes and drill into details. Alpha is at your fingertips
(Views and recommendations given in this section are for research purposes only. Please consult your financial adviser before taking any position in the stock/s or currencies mentioned.) Neither First to invest. nor any of its officers, employees, representatives, agents or independent contractors are, in such capacities, licensed financial advisors, registered investment advisers or registered broker-dealers. First to invest does not provide investment or financial advice or make investment recommendations. Nothing contained in this communication constitutes a solicitation, recommendation, promotion, endorsement or offer by First to invest of any particular security, transaction or investment. Our goal as publishers of financial information is to provide research and analysis of investments to our subscribers